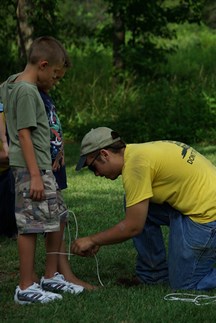 At the July 31, 2008 event, "The Outdoors Is Like an Open Book," children from the Student Development Center in Chesnee discovered some new outdoor activities and learned that playing outside could be as much fun as video games. The Youth Conservation Corps at Cowpens National Battlefield led games such as a three-legged race, crab walk, ring toss, scavenger hunt, identifying nature sounds, and finding the needle-in-the-haystack. One of the children later wrote, "I enjoyed myself. The thing I loved the most was history. It was interesting to learn new ways to play. I had a lot of fun!"
The Youth Conservation Corps (YCC), composed of four teenagers from Chesnee and Gaffney, spent their summer helping to restore the battlefield to its 1781 appearance, preparing for special events, and learning about their environment. They culminated their eight weeks of work by successfully planning and conducting this special event for children. Richard Louv, a child advocacy expert, has linked the lack of time children spend playing outside to the rise in childhood obesity, depression, and attention problems. He calls the syndrome "Nature Deficit Disorder," and it has sparked initiatives such as "No Child Left Inside." Using Louv's book, Last Child in the Woods, as a springboard for ideas, the YCC combined the things that they had learned into this event to connect local children to the park in their backyard.
The YCC is a summer employment program for young men and women between the ages of 15 – 18. Participants work, learn, and earn together through conservation projects on public lands. The youth learn a good work ethic and stewardship of the country's natural resources. The YCC has been a tremendous success at Cowpens National Battlefield. The park has utilized the program since 1979 to accomplish much-needed maintenance. In addition to the work accomplished, participants received a minimum of 40 hours of environmental awareness training. Throughout the years, YCC crews have removed tons of debris, built and maintained trails, eradicated exotic species, and restored many areas of the battlefield to its past appearance. These dedicated young people work for minimum wage, making this program very cost effective.
Ranger Virginia Fowler, who began her National Park Service career with Cowpens National Battlefield's first Youth Conservation Corps group in 1979, stated, "I am proud of the accomplishments that our YCC crew made this year, both with the work they completed at the park and the impact they made on these children. It was exciting to see the children outside having a good time while learning. The National Park Service mission is to preserve areas for the benefit of future generations. I think the YCC got the big picture and made a difference."
Cowpens National Battlefield protects and preserves the historic Revolutionary War Battlefield where American General Daniel Morgan defeated the British forces led by Lieutenant Colonel Banastre Tarleton on January 17, 1781. The park is located 3 miles east of Chesnee, SC and 10 miles west of Gaffney, SC on SC Highway 11. Visitor Center hours are 9:00 a.m. – 5:00 p.m. daily, closed on Thanksgiving, Christmas, and New Years Days. For more information, call (864) 461-2828 or visit the park's web page at www.nps.gov/cowp/.