A Backcountry Holiday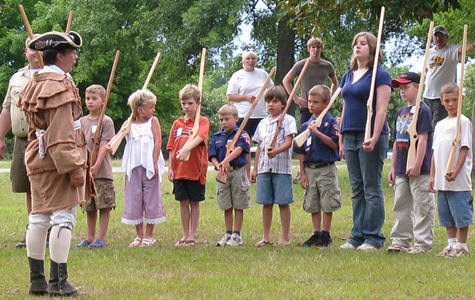 Start a new holiday tradition at Cowpens National Battlefield. On Sunday, November 22, 2009 from 2:00pm – 4:00pm, park staff and volunteers will present "A Backcountry Holiday" at the Robert Scruggs House. This 1828 log cabin will be decorated for the season and open to the public.
In addition, costumed interpreters will demonstrate and encourage participation in Colonial-era activities. Young patriots (and the young at heart) can make candles by dipping the wicks in wax melted over an open fire. Learn to churn butter. Try your hand at spinning raw wool into yarn or sit on the lawn enjoying the autumn weather while you listen to a professional storyteller. Cider and gingerbread cookies will be served behind the cabin.
Come join us at the Scruggs House at Cowpens National Battlefield on November 22nd to get a glimpse of what life was like in the early nineteenth century. The Scruggs House is located in the park two miles past the Visitor Center on the auto tour loop road.
Cowpens National Battlefield is part of the National Park System and has a Visitor Center, movie, museum, bookstore, and a one-mile trail on the battlefield. There is also a picnic area, nature trail and three mile auto tour loop. Visitor Center hours are 9:00 a.m. – 5:00 p.m. daily, closed on Thanksgiving, Christmas, and New Years Day. For more information, call (864) 461-2828 or visit the park's webpage at www.nps.gov/cowp.
- NPS -
Last updated: April 14, 2015