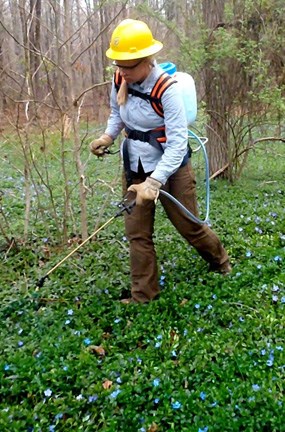 The National Park Service is coordinating with the Palmetto Conservation Foundation to further their plans to remove invasive plants from Cowpens National Battlefield.

In the spring of 2011, a group from the Student Conservation Association's Native Plant Corps worked on the removal of invasive species including Elaeagnus spp. (Autumn olive), Rosa multiflora (Multiflora rose), and Ligustrum spp. (Privet) within and around the battlefield core. They removed the plants manually as well as with herbicide application. SCA members also planted trees, removed low-hanging tree limbs, performed trail work, and participated in various restoration projects throughout the park.

In addition to removing invasive species, the park in conjunction with the Palmetto Conservation Foundation, is studying the transplanting of Arundinaria gigantea (Giant Cane) in order to restore cane populations to historically accurate proportions at the time of the Battle of Cowpens.

The NPS has also started incorporating prescribed burns into their management plans in order to simulate natural and historic conditions.
Long term goals include reducing the populations of the non-native plant species posing the greatest threats to the park, as well as restoring plant communities in the park to their historical appearance the day the battle took place, January 17, 1781.