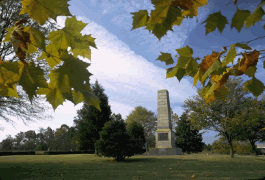 On January 17, 1781 at the Cow Pens, a well-known pasturing area in the upcountry of South Carolina, Brigadier General Daniel Morgan with his untrained, but experienced militia and 600 Continentals, used the setting to rout the British army under Lieutenant Colonel Banastre Tarleton in the only double envelopment to occur in the American Revolution. This decisive battle led to the British defeat at Yorktown nine months later.
On March 4, 1929, the United States Congress recognized the importance of the battle by creating Cowpens National Battlefield Site on one acre of donated land. In 1972 Congress authorized the purchase of about 845 acres of land and changed the name to Cowpens National Battlefield. The purchase included the entire battlefield and a buffer zone around it so that visitors would be able to explore the battlefield without modern-day intrusions. The Master Plan for the development of Cowpens National Battlefield stated:
"By careful handling of the natural vegetation, the area within the park boundary will eventually come to resemble its appearance in Colonial [sic] times. The pasturelands and woodlands will again be in their historic relationship… The Cowpens National Battlefield of the future, as thus envisioned, will offer a meaningful experience for the visitor, who has come to learn more about the great heritage upon which this Nation [sic] was built."
As a unit of the National Park System, Cowpens National Battlefield protects and preserves the historic scene. Protection means taking care of the battlefield for this and future generations. Preservation means restoring the battlefield to its appearance in 1781.