The Revolutionary War as a Civil War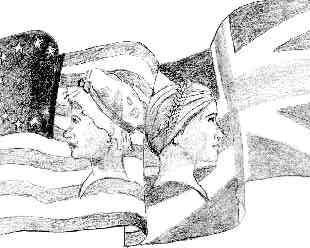 Fractured Families - The American Revolution as a Civil War
The American Revolution can be considered in broader terms than just great heroes, political, and military events. There were certain social results of warfare and hostilities - often-overlooked events that profoundly altered colonial society. Powerful forces often affected families as various family members differed over the war. Examples abound.
One of the more famous examples, perhaps, is the story of the famous Philadelphian Benjamin Franklin, and, his son, William. The latter, appointed royal governor of New Jersey through his father's influence, remained loyal to the Crown. His father, on the other hand, even though an envoy to London, grew embittered against the Crown. At war's end, William fled to England, virtually disowned by his Patriot father he apparently still loved. In the process, a father's dreams for his son were shattered.
There, too, were examples of brother against brother. One of the better known documentations in the Carolinas is of the Goforth brothers at the Battle of Kings Mountain. Preston Goforth, from Rutherford County, North Carolina, an ardent Patriot, was killed in battle. Three of his brothers, all on the Tory side, were also killed at Kings Mountain. No one has documented the cause of the split in this family.
Also, at the Battle of Kings Mountain, the historian Draper writes that, after the battle, a wounded Tory by the name of Branson (Brandon, actually) asked his Whig relative, James Withrow, for help. Withrow's reply was "look to your own friends for help". This response to his brother-in-law (his wife's brother) most certainly played a major part in the divorce petition of James and his wife, Sydney Brandon Withrow, in 1798.
In the backcountry of South Carolina, south of Ninety Six, comes the story of two sisters, Katy and Anna Adolph, daughters of Palatine German immigrants. Their story, pieced together from family documents and memorabilia, letters, and historical records, tells of Katy's marriage to Abraham Frietz, a Loyalist, and, Anna's, to Peter Dorst, a Patriot. A great drama unfolds as the two sisters, following their husbands' politics, find themselves at odds with each other. Ostracized in the community, Katy and other Loyalist families started a new life in Nova Scotia. The true story has a marvelous ending-the two sisters, then elderly, reunited and dealt with all the bitterness and strife of the past.
Many families, of course, were united. Fractured families were, however, at times part of the civil war aspect of the revolution-father against son, brother against brother, sister against sister, and husband against wife. This was part of a larger social drama just as much a part of the Revolution as battles and heroes. Lives were changed forever by the American Revolution.
Last updated: April 14, 2015