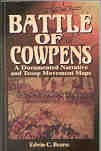 Please Note: Some books are out of print. Check with your local library.
Autobiography of a Revolutionary War Soldier, Joseph Collins, revised and prepared of John M. Roberts. Joseph Collins was a soldier who fought in the Battle of Cowpens. Hardback, 176 pages.
The Battle of Cowpens, Ed Bearss. A documented narrative of the troop movements. Paperback, 58 pages.
Battles of the Revolutionary War, 1775 - 1781, W.J. Wood. Read about major battles and campaigns. Paperback, 315 pages