Wilderness Canoe Tours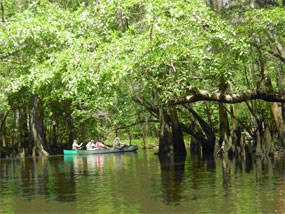 * At this time the park is not offering any guided canoe trips. For those interested in guided trips on Cedar Creek, please see the list below for the contact information of local outfitters currently offering guided trips.

Have you ever wanted to take a guided canoe trip on Cedar Creek? The park offers a limited number of free guided canoe tours each year allowing visitors to experience the Congaree Wilderness in a unique way. While on the creek, you will learn about and experience the natural and cultural history of the last remaining old-growth bottomland forest in the United States. Visitors will see large bald cypress, loblolly pine and a variety of wildlife while on the tour. Would you like to join us?

Canoe Tour Information
Canoe tours are offered on a limited basis. All available tours will be viewable on Recreation.gov. If there are no tours listed, tours are currently unavailable. Reservations can be made through Recreation.gov. All reservations must be made online; no reservations will be taken at the park by phone or through email. Tours are limited to 12 individuals and last approximately 3 1/2 to 4 hours. Individuals can register for one tour only and reserve a maximum of 6 seats. Spaces are available until filled to capacity.
Local Outfitters
If you are unable to reserve a space on one of the park's guided canoe tours or are not visiting the park on a day one is offered, there are several local outfitters who are permitted to operate tours and/or rent equipment to visitors. (This list is subject to change and is regularly updated.)
Participant Requirements
Canoe tour participants must meet the following requirements:
At least one person per canoe must have kayak or canoe experience.
At least one adult (18 or older) must be in each canoe
Children participating must be at least 6 years old
Participants must know how to swim without the aid of a flotation device
What To Bring
The park provides all canoes, paddles and personal flotation devices (PFD) for visitors. Those participating should bring with them:
Weather appropriate clothing (a wicking fabric is best; cotton clothing is nor recommended)
Footwear that straps or ties onto feet (Flip-flops or Crocs will not be permitted)
Water (at least 1 liter/person)
An optional small snack (All trash must be packed out. Trash recepticals are available at the South Cedar Creek parking area)
Sun screen
Insect repellent
Trip Cancellations
Park staff reserve the right to cancel a canoe tour for any reason. Participants will be informed as soon as possible if a tour is cancelled. There are no rain checks or make-up dates for cancelled tours. Reasons a tour may be cancelled include, but are not limited to:
Inclement Weather
Air Temperature below 45º Fahrenheit
Heat index above 103º Fahrenheit
Winds 30 miles per hour or higher
Unsafe water conditions
Last updated: March 25, 2023