Hiking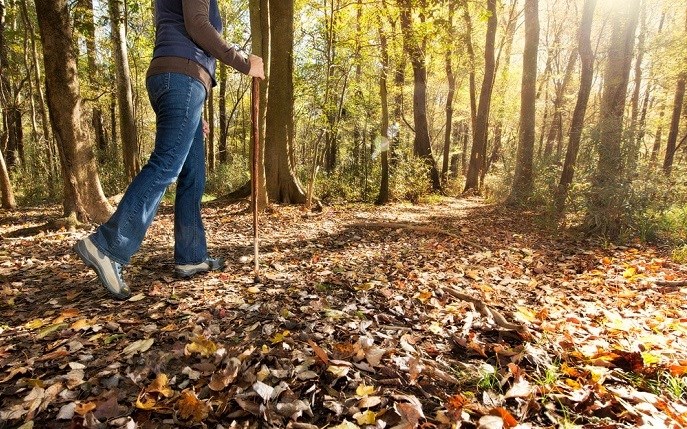 IMPORTANT - PLEASE READ BEFORE HIKING
At this time, you can access backcountry hiking trails from the following locations:
South Cedar Creek Canoe Landing
Bates Ferry Trailhead
Fork Swamp Trailhead
Bannister Bridge Canoe Landing

These trails are backcountry trails and are within a Wilderness area. Trail conditions are determined by nature. Due to conditions and the seasonal nature of the trail maintenance program, trail markers may be missing, and some bridges may be damaged and impassable. Trails can be difficult to navigate at times, and hikers should be prepared to navigate around downed trees and areas of deep mud, as well as high water on the parks trails, especially during the months of November through May. All hikers using these trails should, at a minimum carry, the Ten Essentials with them at all times. and be prepared to hike lasting up to 5-7 hours. For more information on these trails, please e-mail us.

Hiking at Congaree
Hiking the park's many trails lets you get up close and personal with Congaree National Park. Whether you are looking for a short hike on the Boardwalk Trail, or desire to make a longer trek into the backcountry, there are options available for visitors of all skills and abilities. Depending on what you want to see, trails can lead you to oxbow lakes, the Congaree River, or stands of magnificent old-growth trees that help make up the tallest deciduous forest in the United States. To find the right trail for you, visit our trail information page to see what each trail has to offer.
Whether you have hiked Congaree before, or this is your first time, it is always best to come prepared and know what to expect. To find out what equipment you should have and what you need to know before heading out on the trail, visit the hiking safety page for more information.
Are you planning on staying overnight in the backcountry? Remember that backcountry camping is a very different experience and has different rules than the park campgrounds. Make sure to look at the backcountry camping page before you start.
For more information, or to find out more about trail conditions before you visit, you can contact us by email or call the Visitor Center at (803) 776-4396.
Last updated: March 31, 2020