Places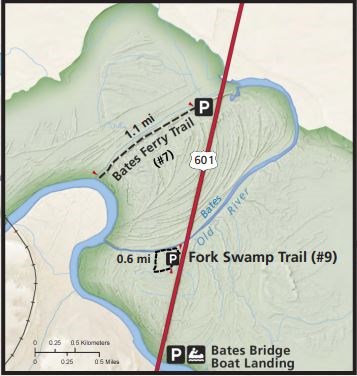 Bates Ferry Trail
Visitors to Congaree National Park often spend the majority of their time exploring the western side of the park, where the Boardwalk, Harry Hampton Visitor Center, and campgrounds are located. However, the less-visited eastern side of the park offers many wonderful recreational opportunities as well. Bates Ferry Trail, located off of US Highway 601 (about two miles south of the junction with SC-48/Bluff Road), offers an experience unique from the park's other trails.
Hiking Through History
Bates Ferry Trail follows a historic road that dates back to when South Carolina was a British colony. Like other roads, it is possible that this path predates European settlement, as Native Americans have lived in and traveled through this area for many thousands of years. This hiking trail, which opened to the public in 2015, takes visitors along a narrow strip of land that sits inside a former bend in the Congaree River, which today is the large oxbow lake known as "Bates Old River."
Over the past several hundred years, this path and the surrounding landscape have witnessed many notable historic events. In 1540, the Spanish explorer Hernando de Soto passed through here on his way to Cofitachequi, the seat of power for a regional chiefdom. Later explorers, including Juan Pardo and John Lawson left important accounts of the landscape and the cultures that lived in the area. It was near this site in 1865 that Union and Confederate forces were involved in a skirmish as General William Tecumsah Sherman marched his soldiers across South Carolina during the final months of the Civil War.
However, some of the most significant activity to occur here happened during the American Revolution (1775-1783). In 2022 and 2023, the park installed a series of wayside exhibits along the trail to highlight some of the unique stories associated with this time period.
Last updated: September 8, 2023