For Teachers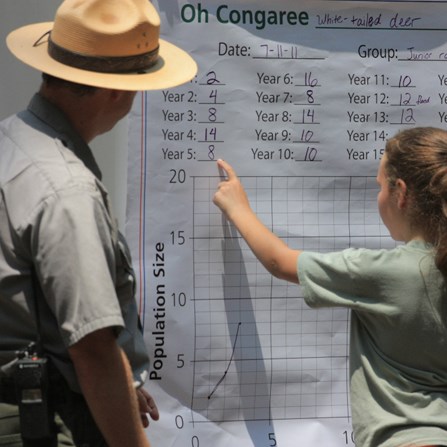 Lesson Plans
Field Trips
2023: Due to limited staffing, ranger-guided programs unfortunately cannot be offered at this time. Please contact the park with any questions, or if planning a self-guided trip. Thank you.
Congaree's "classroom" is filled with a wide variety of potential lessons about the natural and cultural history of the area. We invite you and your students to explore the park as an extension of your classroom.

Self-guided field trips are available on any day of the week. If you would like to schedule a ranger-guided program, please send us an email and consider the following questions:

- What is the name of school and teacher planning the trip?
- What grade(s) level?
- What date are you seeking to come to the park? Are there alternate dates if your first option is not available?
- What educational goals or standards are you trying to meet by taking your field trip?
- How many students and chaperones are coming on this trip? If you have more than 3 classes coming, is it possible to break the trip up into two days?
- How might a ranger best get in contact with you via phone or email?
- What kind of trip are you planning? Are you looking for a ranger-guided program? A self-guided program with a ranger introduction? A self-guided program?
Please note that visits are not confirmed until you have received a response and confirmation from the park. Programs are filled on a first come, first serve basis and are dependent on staff availability.


Items Your Students Should Bring
In order for your students to have a safe and enjoyable field trip, they should have:
Weather appropriate clothing.
Appropriate footwear. Hiking shoes, boots, or sneakers are recommended. Avoid wearing flip-flops or open-toed footwear.
It is highly recommended that each student have a bottle of water. Water is available at the Harry Hampton Visitor Center to fill up bottles at the beginning of your tour.
Teachers should carry insect repellent for the students. Check with the park prior to your trip to see what the mosquito levels are before arriving.
Last updated: July 19, 2023