For Teachers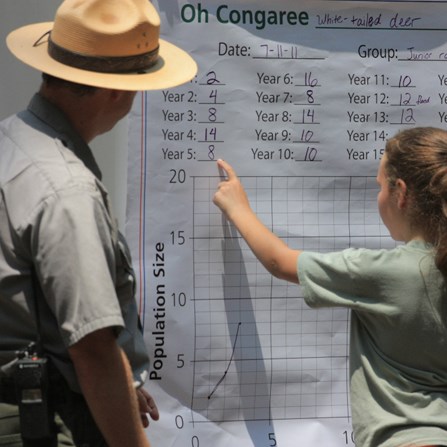 Congaree's "classroom" is filled with a wide variety of potential lessons, for both teachers and students, about the natural and cultural history of the area. We invite you and your students to explore the park as an extension of your classroom. Self-guided and ranger-guided education programs are available. Professional development opportunities can also be arranged.
Ranger-guided field trips are offered Tuesday through Thursday during the park Visitor Center's normal hours of operation. Self-guided field trips are available on any day of the week. If you would like to schedule a program, please send an email with the following information:
Name of School
Name of Teacher
Contact Information (email & phone number)
Grade Level(s)
# of Students
# of Chaperones
Desired date(s) and Time of Visit
Educational Goals (please be as specific as possible)
Please Choose one of the Following Options:
1. Self-Guided Visit (No Ranger)
2. Self-Guided Visit with Ranger Introduction
3. Ranger-Guided Walk
Please note that visits are not confirmed until you have received a response and confirmation from the park. Programs are filled on a first come, first serve basis and are dependent on staff availability. All trips requesting a ranger guided walk or a ranger introduction must be scheduled no earlier than 9:00 AM.
Items Your Students Should Bring
In order for your students to have a safe and enjoyable field trip, there are some items they should have before you begin your field trip:
Students should wear weather appropriate clothing.
Students should wear appropriate footwear. Hiking shoes, boots, or sneakers are recommended. Students should avoid wearing flip-flops or open-toed footwear.
It is highly recommended that each student have a bottle of water, as there are no water stations along the trails. Water is available at the Harry Hampton Visitor Center to fill up bottles at the beginning of your tour.
Teachers and/or chaperones should carry insect repellent for the students. Check with the park prior to your trip to see what the mosquito levels are before arriving.
Last updated: June 14, 2019