Synchronous Fireflies at Congaree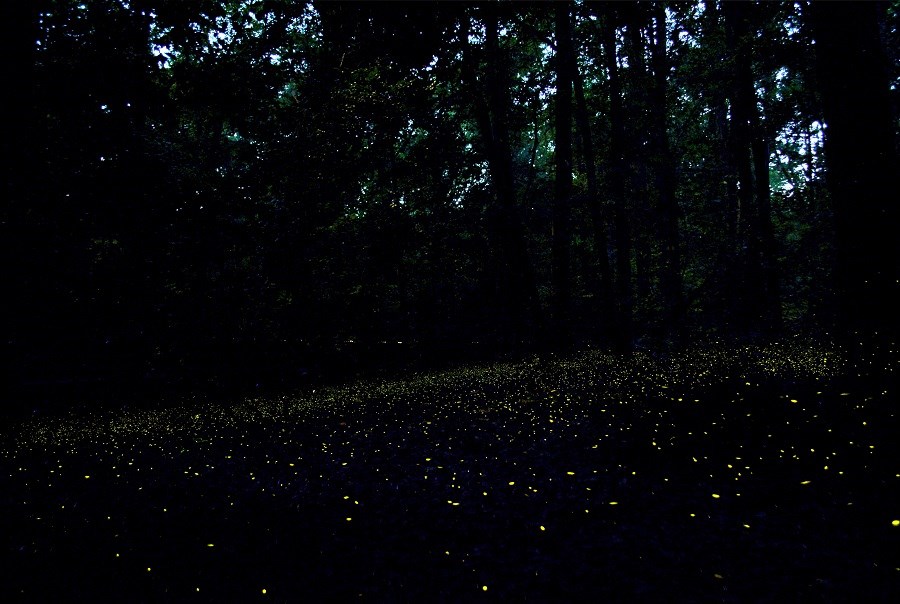 Updated on May 8, 2023
From May 7-27 all frontcountry trails and facilities will close daily at 4:00 p.m., including the Harry Hampton Visitor Center and parking lots, park entrance road, and Boardwalk. All visitors must exit the park by 4:00 p.m. On event nights, park gates will reopen at 6:30 p.m. for those with valid event passes for that night. Gates will close to entry at 8:30 p.m. on event nights. Please see below for more information on park access during this period.
2023 Synchronous Fireflies Viewing Event
With over 2,000 species found world-wide, there are only three species of synchronous fireflies that can be found in North America. Every year, Congaree National Park hosts synchronous fireflies for approximately two weeks between mid-May and mid-June. During this time visitors can experience an awe-inspiring display of synchronous flashing while the fireflies search for a mate. This special and unique phenomenon is extremely popular. Below you will find information about this year's event, the lottery, park access during the synchronization period, and important guidelines for those coming to see these flashy fliers light up the night.
2023 Firefly Viewing Event Dates & Information
The 2023 Synchronous Fireflies Viewing Event will take place on May 13-16 and May 19-24. Passes will be required to enter the park on event nights and will be available through a lottery hosted on recreation.gov. This year's event will feature some modifications compared to previous years. The goal of these changes is to enhance visitor access and opportunities for viewing the synchronous fireflies and further improve the long-term sustainability of this annual event. These modifications will include:
Increasing the number of vehicle passes available for each event night.

Increasing the number of event nights.

An increase of the event fee by $5 to provide each vehicle with a low lumen red light flashlight to reduce the amount of ambient light in the viewing area and better protect the fireflies.

Set times for event entry between 6:30-8:30 p.m. to reduce the impact of vehicle headlights on synchronous firefly activity.
2023 Firefly Viewing Event Lottery Information
* The lottery for the 2023 Firefly Viewing Event has closed for this year's event *
In order to protect critical firefly habitat and provide optimum visitor experience, tickets are required to enter the park during for this event. There will be 130 vehicle passes available for each evening of the event. Vehicle passes for this event will be distributed by lottery hosted at www.recreation.gov/ticket/facility/300008. Lottery entries can be made only during dates listed below and will not be accepted prior to the lottery opening or after it has closed. Applications are limited to one per household. Issued passes are non-transferable and only valid for the date issued. All applicants are charged a non-refundable $1 service fee upon lottery entry. Those applicants selected to receive a pass will be charged the remaining event fee of $24 in order to secure their event pass. All applicants will be notified whether successful or unsuccessful. The dates for this year's event lottery are:
Lottery opens for applicants to enter for an event pass on Thursday, April 6 at 10:00 a.m. EDT.
Lottery closes for applications on Wednesday, April 12 at 10:00 a.m. EDT.
Applicants will be notified of selection status on Monday, April 17.

PLEASE NOTE: All questions or technical assistance requests concerning the lottery should be directed to Recreation.gov (877-444-6777), as the park does not manage the lottery system.
Park Closures During Firefly Synchronization
To best protect critical firefly habitat certain areas of the park will be closed to all visitors at 4:00 p.m. daily from Sunday, May 7 through Saturday, May 27. During this period, closures will be in effect for the following areas:
The park entrance road will close to all incoming vehicle traffic daily at 4:00 p.m.

All parking lots, frontcountry trails and park facilities will close at 4:00 p.m. All visitors in the park, regardless of whether or not they have a pass for that evening's event must exit the park at that time.

The Longleaf and Bluff campgrounds will not be available for reservation during the firefly synchronization period.

Bannister Bridge Canoe Access will be closed during the firefly synchronization period. South Cedar Creek Canoe Access will be open to those wishing to canoe/kayak on Cedar Creek downstream from the landing.

No backcountry camping permits will be issued during the period of park campground closures in May.
Basic Fireflies Event Etiquette and Information
Because these fireflies need specific habitat and conditions in order to synchronize, Congaree is one of only a few places where these conditions are present, and that visitors can experience this natural wonder. In order to provide you and fellow visitors with the best experience and to ensure there are fireflies for the future, please remember the following:
Keep flashlight use to a minimum, and only use lights that have a red-mode or have a red filter.

Keep all flashlights, when in use, pointed at the ground.

Cell phones may not be used in the viewing area for either a light source or taking photos/video.

All visitors should stay on the designated Firefly Trail.

Catching or disturbing fireflies is not permitted at Congaree National Park.

No insect repellent can be applied after arrival at the park. Please apply prior to arrival.

Viewing the fireflies is best just after dark, usually between 9:00 p.m. and 10:00 p.m.

Thunderstorms often occur during this time, so be prepared for the weather. Rain can slow down or stop firefly activity for the evening.
Last updated: May 9, 2023