Synchronous Fireflies at Congaree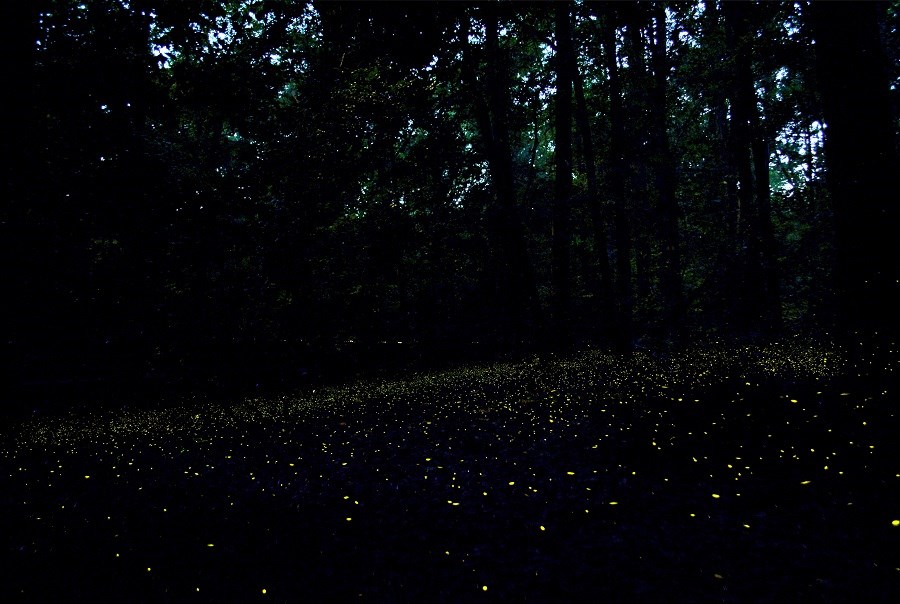 Updated on May 31, 2021
2021 Synchronized Fireflies Viewing Event
The Fireflies Viewing Event ended on Saturday, May 29. Although fireflies are present through early summer, we are now past the peak of synchronous activity for 2021. Details about next year's fireflies event will be posted on this page in early 2022.
Timeline of how the Congaree Fireflies Festival has grown and changed over the past few years:
Pre-2014: The fireflies have been observed for many years. Some locals and visitors know about the synchronous phenomenon, but it is not an event. A long-term decline in firefly populations coupled with increasing light pollution, however, make such experiences increasingly rare for many.

2014-2016:

Park staff begin noticing a marked increase in the numbers of visitors coming to the park to see the fireflies. Law enforcement rangers begin staying late on evenings to monitor the situation. Reports of habitat disturbance and frequent visitor complaints about the noise and light pollution from other visitors are recorded. Visitors are observed parking on the Entrance Road, making it nearly impossible for emergency vehicles to have access to the park. Most visitors are from the local area.

2017:

Extended hours are implemented for the Harry Hampton Visitor Center, which stayed open till 9:00pm for eleven days. The Fireflies Festival was a one day event. Several hundred visitors attend the festival.

2018:

Visitor Center hours are extended to 10:00pm nightly and the Fireflies Festival becomes a ten day event. A designated Fireflies Trail is created to protect firefly habitat and to offer visitors unobstructed views of the fireflies. The Boardwalk is reserved for visitors with mobility issues. Park staff, volunteers and community partners conduct parking operations to assist visitors with parking along the Entrance Road. Several thousand visitors attend the festival. In addition to local residents, more and more visitors are starting to come from the surrounding region for the event.

2019:

Park staff manage the firefly festival through the

Incident Command System for the first time, which is

a standard approach for government agencies and partners to manage complex events (i.e. natural disasters, major events, etc.). Park staff create a roadside pedestrian walkway and institutes full traffic control operations to prevent vehicle-pedestrian encounters. Park successfully pilots a shuttle program with COMET during Memorial Day Weekend to bring visitors into the park from the State Fair Grounds in Columbia. Paramedics are on duty for the entire event. 12,000+ visitors attend the 18-day Fireflies Festival. Visitors are coming from all across the nation for the event and media requests are coming in from as far away as Europe.
2020: Due to the COVID-19 pandemic, Congaree National Park was closed to the public during what would have been the 2020 Fireflies Festival. This presented a unique opportunity to conduct targeted research on fireflies and their habitat. Through this research, the park hopes to better understand firefly behavior and to help park management improve visitor experience through being able to offer more accurate forecasts of when "peak activity" will occur in future years.
2021: In order to protect critical firefly habitat and to provide a safe and enjoyable experience to visitors, the park begins using a lottery system and charging a fee for the event. This system is modeled on the one that has been successfully used by Great Smoky Mountains National Park for a number of years for that park's firefly event.
General Fireflies Viewing Information:
Because of the large numbers of participants expected for this event, the following are prohibited on the Fireflies Trail:
Dogs (service dogs allowed)

Strollers or wagons

Flash photography

Headlamps

Using Smartphones as Flashlights

Chairs, hammocks or blankets

Smoking/Vaping

Alcoholic beverages

Applying insect repellant (please apply prior to arriving at the park)
Participants are asked to observe the following viewing etiquette:
Keep noise levels to a minimum so that everyone can enjoy this special natural occurrence.

Capturing fireflies is not allowed within Congaree National Park.

Stay on the designated trail (walking off trail can adversely impact firefly habitat).

Wear sturdy, close-toed shoes (roots and biting insects may be present)

Only use flashlights when absolutely necessary, pointing them straight down so as to not disturb other participants (Small penlights are recommended).
Other important information about the Congaree Fireflies Festival:
Be prepared for the weather. Thunderstorms often occur in the evenings during May.

The best time to view the fireflies is just after dark, usually between 9:00pm and 10:00pm.

Because of the high volume of visitors, backcountry campers will only be able to access the backcountry via Kingsnake Trail at the South Cedar Creek Canoe Landing. Vehicles of backcountry campers must be parked at the parking lot located at that site. All visitors wishing to camp in the backcountry must have a permit.

If you have a specific question not otherwise answered on this page, please e-mail us

With over 2,000 species found world-wide, there are only three species of synchronous flashing fireflies that can be found in North America. Every year, Congaree National Park hosts synchronous fireflies for approximately two weeks between mid-May and mid-June. During this time visitors can experience an awe-inspiring display of synchronous flashing while the fireflies search for a mate. For information on the scientific research of fireflies at Congaree National Park, be sure to visit the Old Growth Bottomland Forest Research and Education Center's fireflies page.
Last updated: May 31, 2021