Synchronous Fireflies at Congaree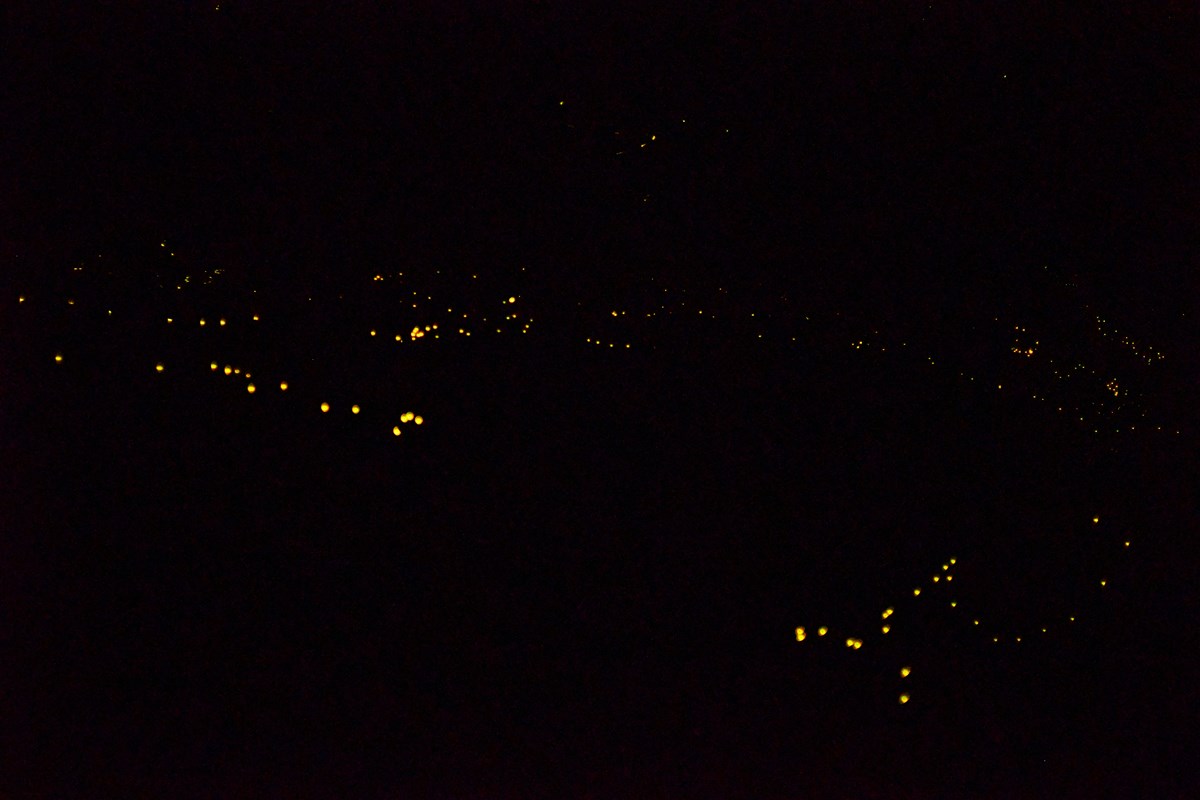 2019 Synchronous Fireflies Season (Updated May 19, 2019 at 11:45 am)
Fireflies Update:
On Saturday, May 18, visitors to the park were treated to another beautiful evening of synchronous fireflies activity along with hot and muggy weather and a full moon! The fireflies have remained active all evening and are still well synchronized. With the weekend upon us, we expect to see a dramatic increase in the number of visitors coming out to view them over the next few days. If you are coming out to the park to see the fireflies, please be sure to read ALL of the important information below so that you and your fellow visitors to the park can have the best experience possible.
Visitor Center Trailhead Closed to Dogs During Festival
Due to the increase of visitors coming out to see the fireflies and crowded conditions around the visitor center and along the Firelies Trail, the Harry Hampton Visitor Center parking area and trailhead will be closed to dogs from 6:00 PM until 10:00 PM. This is for the safety of both your pets and your fellow visitors. Visitors who would like to to come out with their pets and see the synchronous fireflies have the option to see them at the Kingsnake Trailhead, located at the South Cedar Creek Canoe Landing.
Synchronized fireflies have been confirmed in good numbers there for visitors to observe and have been putting on quite a show the past few nights.
2019 Fireflies Festival (May 10-27)
The Harry Hampton Visitor Center will be open until 10:00pm nightly from Friday, May 10 through Monday, May 27. Please note that the exact date of when the synchronous fireflies will begin is not known. They are normally active during a two to three week period sometime between mid-May and mid-June.
During this year's event there will be a designated Fireflies Trail, which will give access to prime viewing areas. This one-way trail will start at the Picnic Shelter, go under the elevated Boardwalk and will end at the Harry Hampton Visitor Center. Because of the large numbers of participants, the elevated section of the Boardwalk will only be open to those with mobility issues during evening hours.
Because of the large numbers of participants expected for this event, the following are prohibited on the Fireflies Trail:
Dogs

Strollers

Wagons

Headlamps

Using Smartphones as Flashlights

Chairs, hammocks or blankets

Flash Photography

Smoking/Vaping

Applying insect repellant (please apply prior to arriving at the park)
Participants are asked to observe the following viewing etiquette:
Keep noise levels to a minimum so that everyone can enjoy this special natural occurrence.

Capturing fireflies is not allowed within Congaree National Park.

Stay on the designated trail (walking off trail can adversely impact firefly habitat).

Wear sturdy, close-toed shoes (roots and biting insects may be present)

Only use flashlights when absolutely necessary, pointing them straight down so as to not disturb other participants (Small penlights are recommended).
Other important information about the Fireflies Festival:
Parking is very limited

. Carpooling is highly recommended.

Due to the high volume of vehicles, there will be no RV and oversize vehicle parking during festival hours. Drivers should plan to drop off passengers and have a set time to return to the park to pick them up.

Be prepared for the weather. Thunderstorms often occur in the evenings during May.

The best time to view the fireflies is just after dark, usually between 9:00pm and 10:00pm.

Because of the high volume of visitors, backcountry campers will only be able to access the backcountry via Kingsnake Trail at the South Cedar Creek Canoe Landing. Vehicles of backcountry campers must be parked at the parking lot located at that site. All visitors wishing to camp in the backcountry must have a permit.

If you have a specific question not otherwise answered on this page, please

e-mail us

If you are interested in volunteering at the 2019 Fireflies Festival please

e-mail us

.
With over 2,000 species found world-wide, there are only three species of synchronous flashing fireflies that can be found in North America. Every year, Congaree National Park hosts synchronous fireflies for approximately two weeks between mid-May and mid-June. During this time visitors can experience an awe-inspiring display of synchronous flashing while the fireflies search for a mate. For information on the scientific research of fireflies at Congaree National Park, be sure to visit the Old Growth Bottomland Forest Research and Education Center's
fireflies page
.
Last updated: May 19, 2019