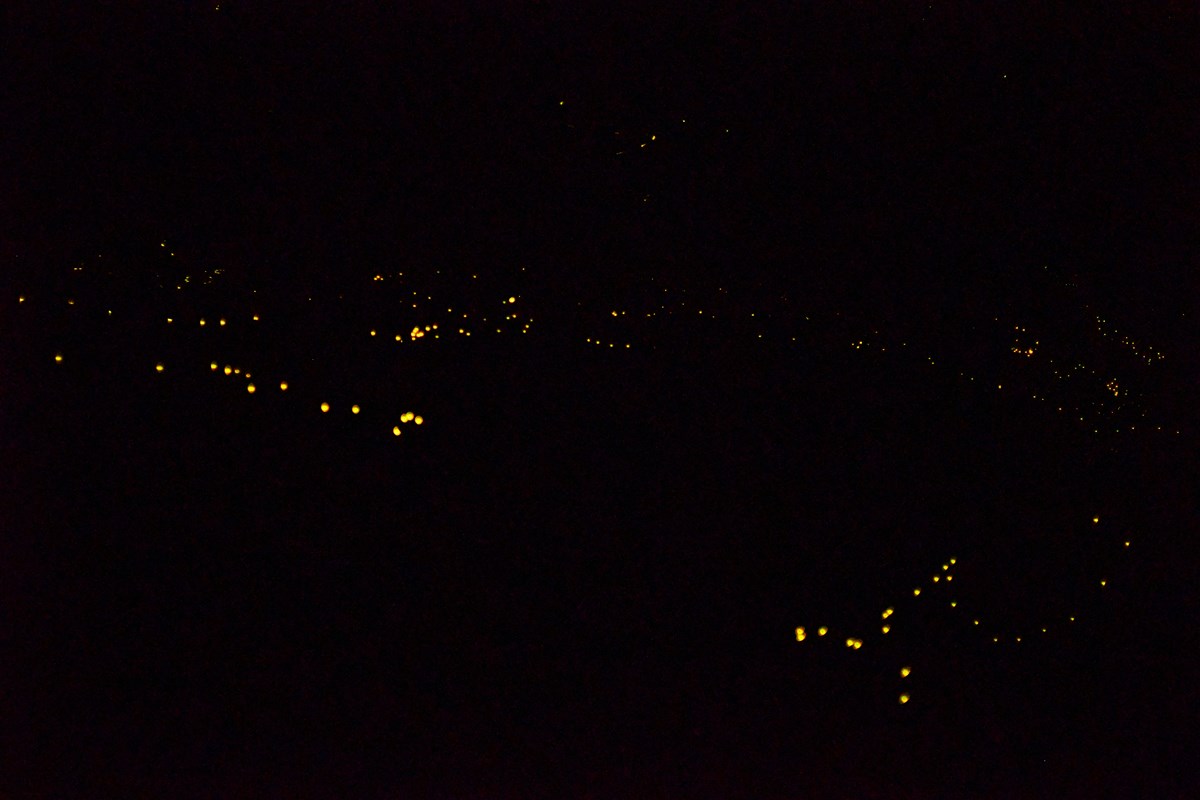 * Final Update for the 2018 Synchronous Fireflies Season*
The synchronous fireflies are no longer active. The synchronous fireflies became active on the evening of May 16, 2018 and ended the first week of June. As we have reached the end of this year's synchronous fireflies season, we will not be providing any more updates on this page until the 2019 season.
Important Info & Viewing Etiquette for the 2018 Synchronous Fireflies Season
The Harry Hampton Visitor Center is open for extended hours from Friday, May 11 through Monday, May 28 (9:00am-10:00pm).
This year there will be a designated Fireflies Trail, which will give access to prime viewing areas. This one-way trail will start at the Picnic Shelter, go under the elevated Boardwalk and will end at the Harry Hampton Visitor Center. Because of the large numbers of participants, the elevated section of the Boardwalk will only be open to those with mobility issues during evening hours (to allow those visitors easy access to viewing areas).
Strollers, wagons, etc. should not be used along the Fireflies Trail due to the many roots and high volume of visitors.
Dogs will NOT be allowed along the Fireflies Trail due to the large numbers of people expected. We highly recommend that visitors consider not bringing their dogs to the park during the evening hours.
Setting up chairs, hammocks and/or blankets will NOT be allowed by event participants.
If you are going to use insect repellent, please apply BEFORE entering the park. Insect

repellent will adversely

affect fireflies.
Because of the increased number of visitors, we ask that everyone keep noise levels to a minimum so that everyone can enjoy this special natural occurrence.
Flashlights should ONLY be used when absolutely necessary and they should only be pointed at the ground directly in front of you. The scientific evidence shows that even flashlights with red filters can interfere with fireflies breeding. Please be respectful for both the other visitors and the fireflies they are here to see.

Do not use flash photography. The flashing can be difficult to capture on camera/video.

Parking is very limited. Carpool when possible.
Bus and oversize vehicle parking will be very limited, so please plan to drop off passengers and have a set time to return to the park to pick them up. Parking for oversize vehicles is NOT guaranteed.

Be prepared for the weather.

Please wear closed toed shoes as there are roots and biting insects along the Fireflies Trail.

Fireflies are only here for a few short weeks. Please do not capture them in jars or take them with you.
Many children remember catching fireflies in jars when they were young, but not all fireflies are the same. With over 2,000 species found world-wide, there are only three species of synchronous flashing fireflies that can be found in North America. Every year, Congaree National Park hosts synchronous fireflies (Photuris frontalis) for approximately two weeks between mid-May and mid-June. During this time visitors can experience an awe-inspiring display of synchronous flashing while the fireflies search for a mate. For information on the scientific research of fireflies at Congaree National Park, be sure to visit the Old Growth Bottomland Forest Research and Education Center's
fireflies page
.
The best time to view the fireflies is just after dark, usually between 9:00pm and 10:00pm. The best viewing is along the bluff. The boardwalk is a popular place to view them and they can also be seen along Bluff Trail and in Bluff Campground.