News Release
Colonial NHP receives funding from Great American Outdoors Act for $122.8 million rehabilitation of Colonial Parkway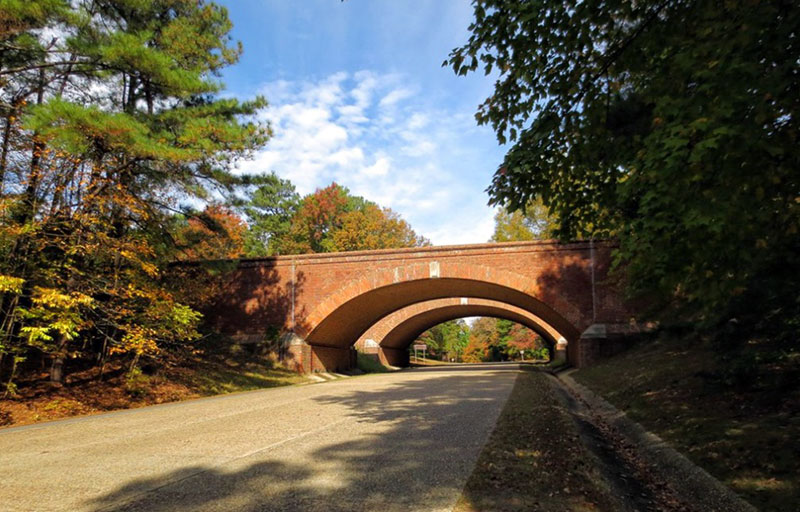 News Release Date:
March 3, 2023
Contact: Christopher Derman
Contact: Matt Henderson
Colonial National Historical Park announces the award of $122.8 million for the Colonial Parkway Rehabilitation project, funded through the Great American Outdoors Act (GAOA) in partnership with the Federal Highway Administration (FHWA). The project will repair and extend the life of approximately 10.3 miles of the Colonial Parkway, including all associated structures and components in the affected sections.

Originally designed in the 1930s and completed in 1957, Colonial Parkway is a 23-mile scenic roadway that embodies the characteristics of a modern parkway. The use of curving alignments, limited access, and designed plantings provide a pleasurable driving experience between Yorktown Battlefield in Yorktown, Virginia, and Historic Jamestown Island, along James River. The Parkway links Virginia's historic triangle of Jamestown, Williamsburg, and Yorktown and is used by millions of travelers annually to access and enjoy the area's natural and cultural beauty.

The project will replace much of the road surface, replicating the exposed aggregate concrete surface that is reminiscent of dirt roads of a bygone era, and rehabilitate 11 bridges and the Williamsburg Tunnel. Funding will also go towards repairing, rebuilding, or up-sizing of culverts, headwalls, and stormwater management structures as needed. In order to meet modern safety standards, this project will re-contour and stabilize shoulders and replace steel-backed timber guardrails and traffic signs.

"The project eliminates hazards that impact the visitor's ability to enjoy Colonial Parkway," said Colonial National Historical Park Superintendent Jerri Marr. "It will allow us to resurface the Parkway, rehabilitate aging bridges, increase storm resiliency, and improve safety and the visitor experience along the most-traveled portions of Colonial Parkway." 

In 2021, the park had 3.1 million visitors who spent an estimated $337 million in local communities. These expenditures supported a total of 5,040 jobs, $143 million in labor income, $245 million in value added, and $453 million in economic output in local gateway economies.

The contract was awarded to a local contractor Wagman-JMT Design-Build. The project will reduce the park's deferred maintenance and repair needs associated with these facilities by $97.6 million.

After the project design is finalized, construction is expected to start later this year. The work will require closure of segments of the parkway, with well-marked detours. Specific closure alerts will be available on the park website. Closures will occur at existing interchanges, with the length of the closure dependent on the amount and complexity of the required work. Some section closures could last from several weeks to several months during the project, which is anticipated to take about three years once construction begins. Work is slated to be completed in time for local commemorations of the 250th anniversary of the Declaration of Independence, in 2026.

Funding for the project is from GAOA's National Parks and Public Lands Legacy Restoration Fund. GAOA is part of a concerted effort to address the extensive maintenance backlog in national parks. Supported by revenue from energy development, the fund provides up to $1.3 billion per year for five years to the National Park Service to make significant enhancements in national parks to ensure their preservation and provide opportunities for recreation, education, and enjoyment for current and future visitors. 
Last updated: March 3, 2023