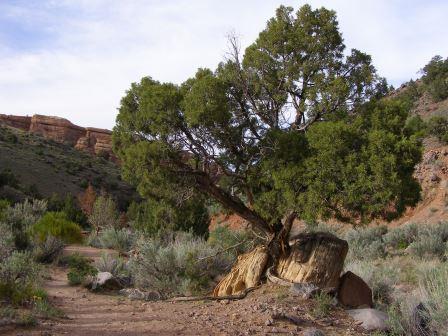 News Release Date:
February 22, 2018
Contact: Arlene Jackson, 970-858-3617 x363
Contact: Alicia Lafever, 970-858-3617 x364
Colorado Mesa University professor Deb Kennard will present a special program at the Saddlehorn Visitor Center on Saturday, March 3, 2018 at 1:00 p.m. She will explore the natural history of Colorado National Monument's most important trees - pinyon pines, junipers and cottonwoods – and their very different strategies for survival. The monument's pinyon-juniper woodlands are ancient (with some trees at least 1000 years old) while cottonwood stands live fast and die young. Dr. Kennard will examine a variety of threats such as non-native grasses, fire, and increasing drought that make the future of each of these species uncertain.
Due to the limited size of the theater at the visitor center, free reservations are required. Please call (970) 858-3617 x360 to make reservations. While the program is free, regular monument entrance fees apply.
Dr. Kennard has been teaching Environmental Science at Colorado Mesa University since 2005. She has been conducting research with CMU students on the pinyon-juniper woodlands and cottonwood stands of Colorado National Monument for over ten years. Prior to moving to Grand Junction, she was a research scientist with the Forest Service studying forest fires in the southeastern U.S. Her other research includes: studying tamarisk beetle effects in Colorado, climate change effects on plants in Puerto Rico, logging effects on vines in the rainforests of Borneo, and forest succession in Bolivia.
Starting March 3 spring hours will be in effect at Colorado National Monument. The visitor center will be open from 9:00 a.m. to 5:00 p.m. daily.
For additional information please visit www.nps.gov/colm or call 970-858-3617, ext. 360.
-www.nps.gov-
About the National Park Service: More than 20,000 National Park Service employees care for America's 413 national parks and work with communities across the nation to help preserve local history and create close-to-home recreational opportunities. Visit us at www.nps.gov, on Facebook www.facebook.com/nationalparkservice, Twitter www.twitter.com/natlparkservice, and YouTube www.youtube.com/nationalparkservice.