Weather and Climate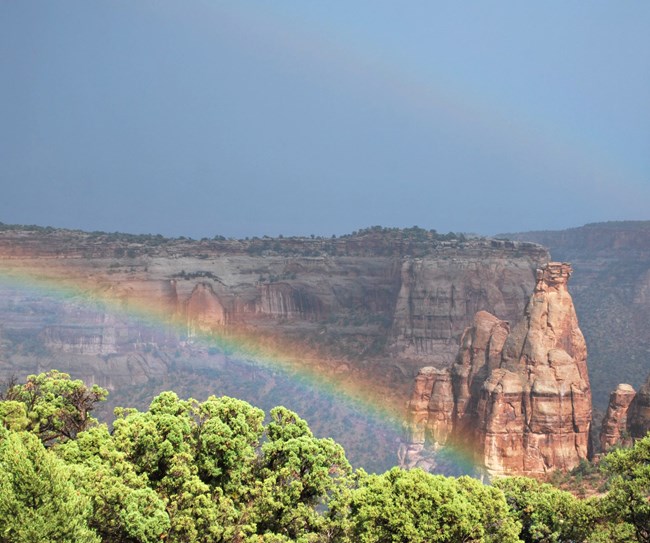 Weather
The National Weather Service provides current weather forecasts for the Grand Junction/Fruita Area.
Climate
With elevations ranging from 4,000 ft to nearly 7,000 feet, Colorado National Monument is represented by semi-desert and upland climates. Annual precipitation averages 11.03 inches, fairly evenly spread throughout the year. Spring and early fall are the wettest times of year. Snowfall averages approximately 31 inches annually.
Temperatures are highly variable, with summer highs ranging into the low 100s in the valley floor and sometimes reaching 110+ in the neighboring canyon country. The average summer high temperature is 90º Fahrenheit, and average winter low temperature is 20º Fahrenheit. Winters at the monument are generally mild, with lows occasionally dipping into sub-zero readings.
For more information on climate at Colorado National Monument, visit the Northern Colorado Plateau Network website.
Average Monthly Temperatures and Precipitation, Colorado National Monument, 1967–2017
Month

Average High
Temperatures
Average Low
Temperatures
Average
Precipitation
F
C
F
C
IN
CM

January

37.5

3.1

19.2

-7.1

0.8

2.0

February

44.3

6.8

24.6

-4.1

0.6

1.6

March

54.7

12.6

31.8

-0.1

1.0

2.5

April

63.8

17.6

38.3

3.5

1.0

2.5

May

73.9

23.3

47.3

8.5

1.1

2.8

June

86.4

30.2

57.5

14.2

0.7

1.8

July

92.2

33.4

63.4

17.4

0.9

2.2

August

89.1

31.7

60.5

15.9

1.2

3.0

September

80.1

26.7

52.4

11.3

1.1

2.7

October

65.9

18.8

40.9

4.9

1.2
3.2

November

49.4
9.6

29.8

-1.2

0.9

2.3

December

38.5

3.6
20.6

-6.3

0.8

2.0

TOTALS

11.3
28.6

Averages from NOAA weather records 1967-2017

*Recorded at 5787 feet/1764 meters


Last updated: April 10, 2020