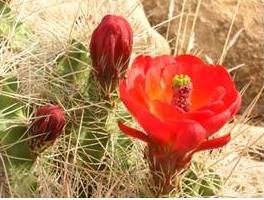 Inventory and Monitoring
Much like a physician needs to know a patient's heartbeat and blood pressure for diagnostic purposes, National Park Service officials need accurate information about the resources in their care. Specifically, they need to know how and why natural systems change over time, and what amount of change is normal, in order to make sound management decisions.
The Northern Colorado Plateau Network https://science.nature.nps.gov/im/units/ncpn/ helps park managers to make science-based decisions. Field crews collect data on a suite of natural resources, and then ecologists analyze and synthesize that data into reports for park managers. To perform this long-term monitoring, the network relies on help from park staff as well as other federal and state agencies, non-profit organizations, and universities. The information collected can provide early warning of ecosystem changes, allowing park managers to develop mitigation measures and reduce management costs.
At Colorado NM, the network monitors air quality, climate, invasive exotic plants, land surface phenology, landbirds, and landscape dynamics.