Rabbitbrush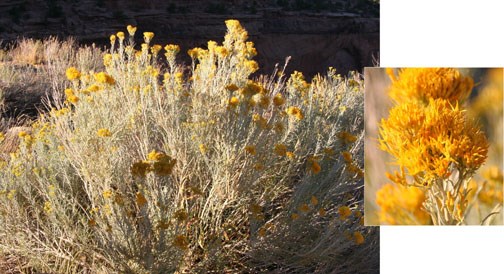 Rabbitbrush (Chrysothamnus sp.)
Other Names:
Family: Asteraceae (Sunflower family)
Description: there are five species of rabbitbrush present at Colorado National Monument. Most species grow to between 3-5 feet tall and have single narrow, yellow-green leaves borne on flexible yellow-green stems. Stems tend to form a rounded crown, with small yellow flowers appearing towards the tips in late summer and early fall.
Range: occurs throughout the western United States from California to Kansas, north into Canada, and south to Texas. It can be found throughout Colorado National Monument, but may be more dominant in recently disturbed areas.
Did you know: rabbitbrushes grow well on disturbed areas, and high concentrations of rabbitbrush can be used as an indicator for abandoned agricultural or graze zones, as well as for recent fire zones. Because this fast-growing, hardy plant grows quickly on burnt and stressed soils, it is an important pioneering species in disturbed areas: the early growth of rabbitbrush on sub-optimal sites helps other species become reestablished after disturbance.
Last updated: February 24, 2015