Mountain Mahogany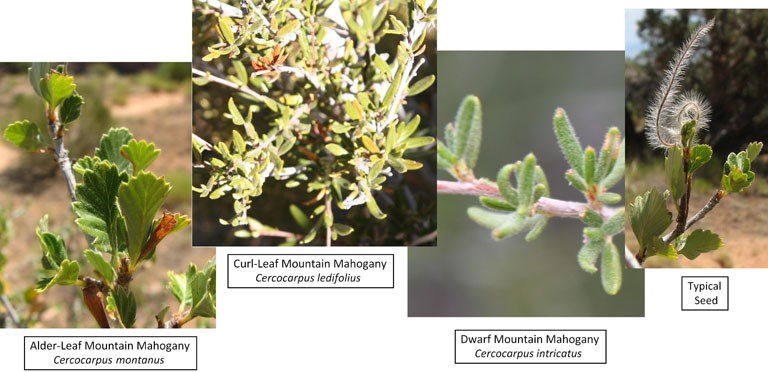 Mountain Mahogany (Cercocarpus sp.)
Other Names:
Family: Rosaceae (Rose Family)
Description: there are three species of mountain mahogany present at Colorado National Monument. All three species have reddish-brown bark, as well as characteristic seeds with single long and twisted hairy tails. Mountain mahoganies are evergreen, with shiny dark green leaves covered in fine hairs. The leaves of most common species, the alder-leaf mountain mahogany (C. montanus), are 1 inch long, roughly elliptical, and have serrated edges.
Range: occurs throughout the western United States from California to Kansas, north to Montana, and south to Texas. It can be found throughout Colorado National Monument, but is especially common on dry, rocky slopes among sagebrush, pinyon pine, and juniper communities
Did you know: the wood of the mountain mahogany is exceptionally hard and heavy, and some varieties such as the curl-leaf mountain mahogany are so dense that they will not float in water. This makes mountain mahogany a perfect source for sturdy, durable wooden tools. Native peoples throughout the southwest used the wood of mountain mahogany to make various tools, and the Hopi even used the bark to make reddish-brown dye to color leather.
Last updated: February 24, 2015