Mountain Ball Cactus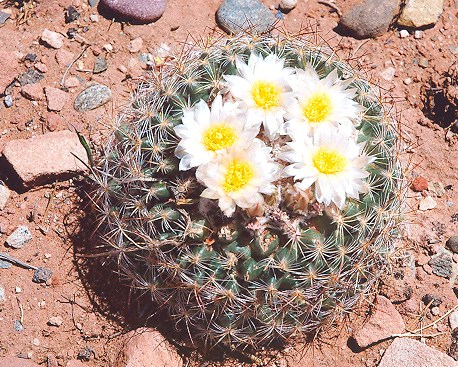 Mountain Ball Cactus (Pediocactus simpsonii)
Other Names: Simpson's hedgehog cactus, Simpson's pincushion cactus, Simpson's footcactus
Family: Cactaceae (Cactus Family)
Description: single spherical stem is 6 inches in diameter with conical-shaped tubercles in spires. Each tubercle is tipped with an areole containing two brown central spines and 20-45 short radial spines. White, yellow, or pink flowers are produced in April with tan, dry fruits appearing in midsummer.
Range: occurs throughout the western United States from Oregon to South Dakota, north to Montana, and south to New Mexico. At Colorado National Monument, look for it growing at lower elevations in powdery soils amongst pinyon, juniper, and sage.
Did you know: a favorite among gardeners and cactus collectors, the mountain ball cactus is native to Colorado and the Four Corners region. Although it may not be hard to find the mountain ball cactus growing here at Colorado National Monument, this incredibly spiny cactus has become endangered or threatened throughout other parts of its range.
Last updated: February 24, 2015