Mormon Tea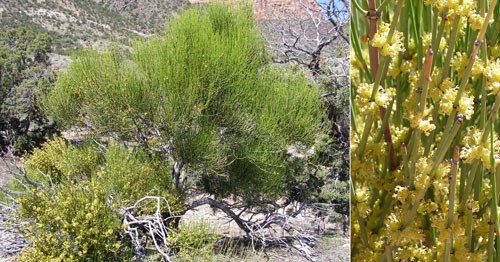 Mormon Tea (Ephedra viridis)
Other Names: joint-fir, Brigham tea
Family: Ephedraceae (Ephedra Family)
Description: may grow up to 4 ft tall. Jointed stems, which may distantly resemble bamboo stems, are green and finely-grooved with no leaves. Cones and seeds appear in the spring and look like small yellow flowers. Note that this is not a true flowering plant.
Range: occurs throughout the western United States from California to Colorado, north to Oregon, and south to New Mexico and Arizona. It can be found throughout Colorado National Monument.
Did you know: as its name suggests, mormon tea can be used to make herbal tea. Following the example of native peoples of the desert southwest, early settlers of this region boiled the young stems of this plant into tea as a remedy for cold and cough. Today, we know that the "active ingredient" in mormon tea is an ephedrine-like compound commonly found in the Ephedra family. An asian relative of E. viridis known as Ephedra sinica contains an ephedrine compound used worldwide to treat cold and hay fever.
Last updated: February 24, 2015