Fish-hook Cactus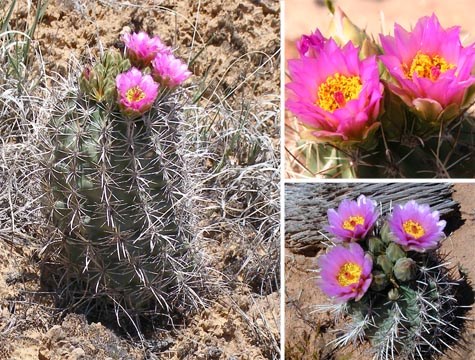 Fish-Hook Cactus (Sclerocactus parviflorus)
Other Names: smallflower fish-hook cactus, eagleclaw cactus, devil claw cactus
Family: Cactaceae (Cactus Family)
Description: single stems are 4 inches thick and up to 10 inches tall. Stems have 13-15 spiral ribs with spines clustered in areoles, each of which contains 4 central spines and 7-11 radial spines. Pink or purple flowers are produced throughout April and May.
Range: occurs throughout Utah, Arizona, Colorado, and New Mexico. Look for it growing in Colorado National Monument's eastern regions, especially at lower elevations on metamorphic rock.
Did you know: the fish-hook cactus's scientific name, Sclerocactus ("hard cactus" in Greek), refers to this cactus's hard, dry fruit. At maturity, the reddish fruit of the fish-hook cactus splits irregularly, releasing small dark brown or black seeds.
Last updated: February 24, 2015