Fire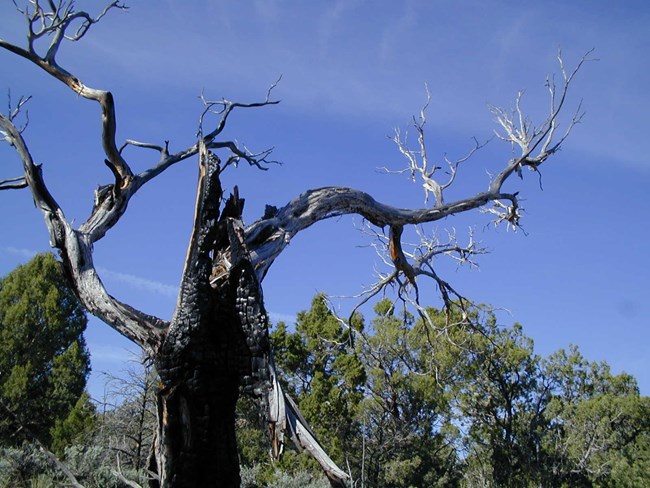 To combat the spread of wildfires, wood fires are prohibited year-round everywhere in Colorado National Monument.
Charcoal fires and the use of gas/propane stoves are permitted in the Saddlehorn Campground. In Colorado National Monument's backcountry, gas and alcohol camp stoves are permitted. The monument has gusty winds at times, so please use caution or refrain from using open flames when conditions are hazardous.
Lightning can spark fires in the monument, but these strikes have usually been isloated and burn few trees before containment.
Dr. Deborah Kennard, a Colorado Mesa University Biology Professor, has studied fire ecology in the area. She found that some of the Utah Junipers,
Sabina osteosperma
, in the monument date to more than 900 years old and some of the pinyons,
Pinus edulis,
were almost 600 years old. Dr. Kennard has researched invasive cheat grass,
Anisantha tectorum
, and documented its negative impacts in spreading fires. Pinyon-juniper forests are very susceptible to fire and if burned could cause widespread long-term damage.
Currently Colorado National Monument is under Stage 1 Fire Restrictions. Smoking is prohibited except within an enclosed vehicle or paved surfaces. As always wood fires and fireworks are prohibited.
News Releases in Colorado National Monument
Agency Fire Information and Restrictions for nearby areas:
United States Forest Service: Fire information and any restrictions in the Grand Mesa, Uncompaghre and Gunnison National Forests
National Weather Service Forecast Office in Grand Junction, Colorado: watches, warnings and advisories
Colorado Wildfire Information & Resources
Mesa County Sheriff's Office: Fire information and any restrictions.
Multi-agency Incident Information System
Last updated: September 21, 2018