Desert Bighorn Sheep
Desert bighorn sheep are among the most intriguing mammals of canyon country. They are wary of human contact and blend so well into the terrain they inhabit that sightings are a special event. Once in danger of becoming extinct, the desert bighorn sheep (Ovis canadensis) have made a comeback in parts of western Colorado. A small population was reintroduced to Colorado National Monument in 1979. While more than 230 sheep have been sighted and monitored across the public lands of the Grand Valley, about 40 bighorn thrive in and around Colorado National Monument (2010).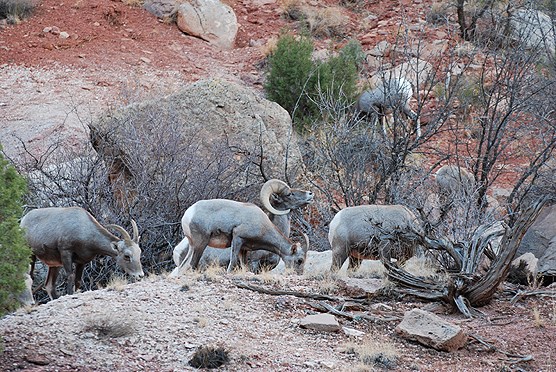 Unlike their Rocky Mountain cousins, desert bighorn have adapted to hot, dry climates, and have longer legs, lighter coats, and smaller bodies. They can live without water for days. Their diet of bluegrass, brome, fescue, clover phlox, and cinquefoil supplies a good portion of their water needs.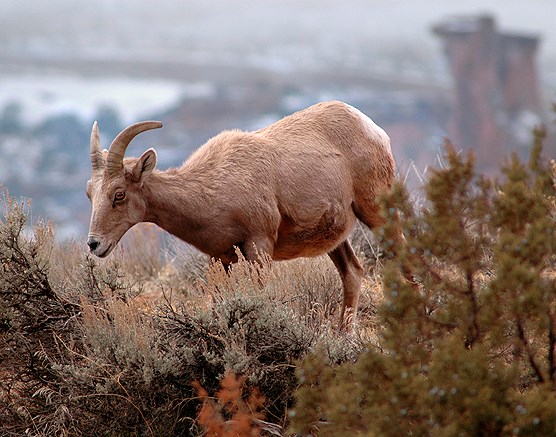 Ovis canadensis can maneuver steep red rock canyons bounded by high, flat ridges, and use this terrain to evade predators - such as mountain lions. They have flexible hooves equipped with soft songy pads that help them cling to rocks.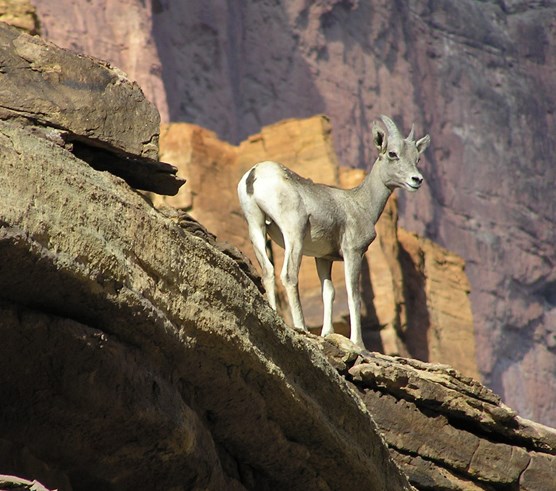 Bighorn sheep are common in American Indian rock art, an indication of their presence and prominence in indigenous cultures. Accounts from European explorers in the late 1600s estimate that more than two million desert bighorn once roamed the southwest. However, by the late 1800s bighorn sheep had disappeared or declined in many areas. Extremely vulnerable to diseases from European livestock, herd after herd of wild sheep were decimated by pathogens like scabies (an ear mite) and anthrax (a bacterial disease) introduced by domestic sheep. Bighorns were also killed by early explorers, settlers, and trophy hunters.
Increased human activity and development continue to threaten the desert bighorn sheep. For the remaining herds to survive, management may always be necessary. Protecting wild lands is key to the survival of these amazing animals, and The Colorado Division of Wildlife in partnership with Colorado National Monument will continue to play a large role in these ongoing efforts.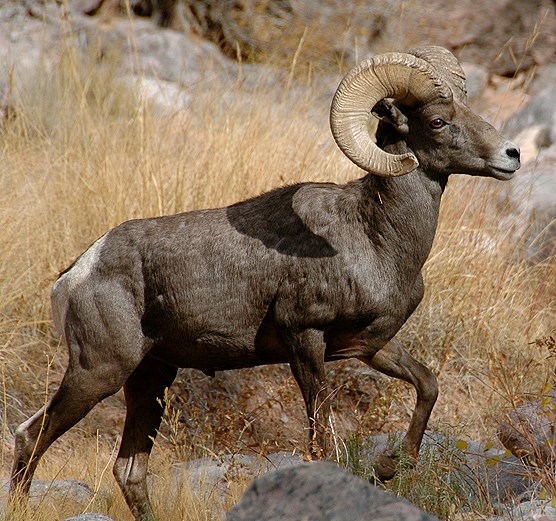 Look for rams and ewes along ledges at the base of canyon walls and above steep talus slopes: (1) along Rim Rock Drive in Fruita Canyon; (2) near Balanced Rock View; (3) behind the Saddlehorn Visitor Center at the Wedding Canyon viewpoint; and (4) year-round in Kodels, Monument, and Wedding Canyons, which require hikes varying from 2-12 miles round-trip.
Last updated: October 3, 2022