Laws & Policies
Colorado National Monument is a unit of the National Park Service, and is governed by various rules, regulations, and policies.
Specific information about the monument's rules, regulations, and policies can be found in the
Compendium of Regulations
, which is updated annually. The
Code of Federal Regulations
(CFR) has a complete list of all federal regulations.
For more information on laws and policies in Colorado National Monument, please select a link from the table below.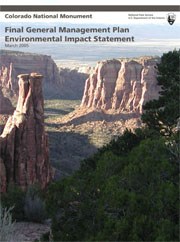 General Management Plan:
This Final General Management Plan/Environmental Impact Statement describes and analyzes a proposed action and two alternatives for managing and using Colorado National Monument. The purpose of a general management plan (GMP) is to map out a clear vision for the direction of management of Colorado National Monument for the next 15–20 years.
The GMP will provide comprehensive and integrated guidance for perpetuating natural systems, preserving cultural resources, providing opportunities for visitor enjoyment and understanding and the organizational mechanism, including partners, to accomplish the plan.
The main issues addressed by this plan revolve around the rapid urbanization occurring around the monument, and how to manage the monument in the face of this change. Issues include managing ecosystems and cultural resources, vandalism and resource damages, the future of trails and trailheads, use conflicts on Rim Rock Drive, interagency information, education and outreach, and boundary adjustments.

If you would like a copy of the General Management Plan, please contact us and we will mail or email one to you.
Foundation Document
Colorado National Monument's 2015 Foundation Document is available for review. We have the full version available for review or the document summary.


Last updated: April 4, 2022