John Otto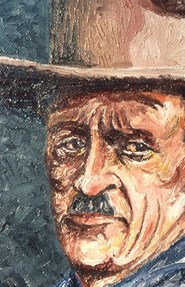 When John Otto first saw the rugged red rock canyons south of Grand Junction in 1906, he felt an instant connection with the spectacular landscape. The following year, he wrote:"I came here last year and found these canyons, and they feel like the heart of the world to me. I'm going to stay and build trails and promote this place, because it should be a national park."

With that goal in mind, John Otto began promoting the idea of a national monument. He started fundraising campaigns and took people on tours of the proposed monument. Presidents Roosevelt and Taft received invitations from John Otto, but they did not travel to Colorado to see the canyons. Not to be discouraged, Otto continued writing letters and eventually President Taft did come for a visit during the peach festival in 1909. A year later, Otto wrote back to President Taft, beginning with "My dear President- Almost a year has passed since you visited our valley. Perhaps you remember the Peach Queen." He included another request in his letter for President Taft to designate the monument as a national park, and ended the letter "John Otto, Trail Builder and Guide."

Other supporters joined Otto in his efforts and deluged Washington politicians with letters of support. On May 24, 1911, President Taft signed the proclamation that established Colorado National Monument.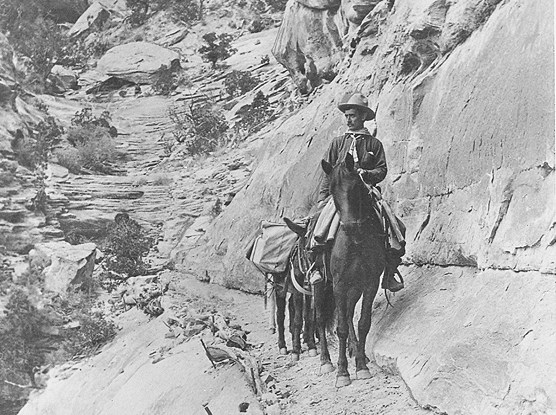 Afterwards, John Otto became the monument's first superintendent, earning a salary of $1.00 a month. This salary would amount to approximately $33.00 per month in 2022. He lived alone in the canyons in a tent with his horse and burros for most of the year, building trails by hand. As work progressed, he moved his camp.

Otto named the rock formations he encountered after important people and historical events in American history. He preferred to give patriotic names to the formations, saying: "At the beginning of my work it was agreed to name everything out of United States history as much as possible, leaving out Biblical, foreign, and fictitious names." Some of the formations, such as Independence Monument and Liberty Cap, are still known by the names given by John Otto.

Gradually, through his single-minded pursuit and hard physical labor, he completed trails to make the scenic beauty of the canyons more accessible to the public.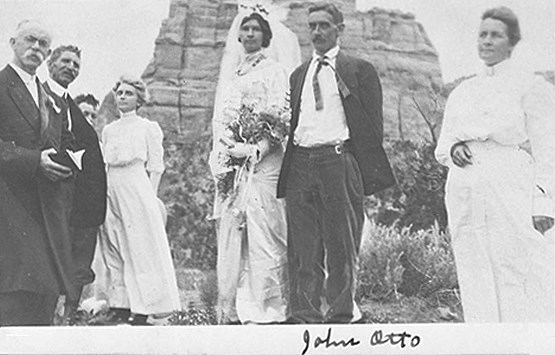 During his efforts to build trails in the monument, John Otto and Beatrice Farnham were married. Otto was not clear on how they met, but he wrote enthusiastic letters about their engagement to the newspapers. "The other day "my partner" arrived, Miss Beatrice Farnham, artist, trail girl of the Southwest. I sincerely believe I have pursued my labors honorably over here in these hills and, now as there are two, we assure the Sentinel, that work will be continued on the same basis."

As an engagement present, John gifted Beatrice a burro named Foxy. "While I can't wear it, it will come in handy carrying my paint boxes and other paraphernalia of the trail." Beatrice was an accomplished artist, both with painting and as an interior decorator. She had a contract to refurbish several rooms at the LaCourt Hotel in Grand Junction, an elegant hotel and social center that closed in 1967.

The couple married on June 20 at the base of Independence Monument. Beatrice said "We are not trying to make its (sic) picturesque, but simply to coincide with our own principles which prefer the open canon to the stained glass churches as the scene for our ceremony."

John Otto had opinions on the institution of marriage, saying "I don't believe in the modern form of marriage. It isn't formed on common sense. I am doing it, not because I believe in the modern marriage system, but because I believe in obeying the law of the land, no matter what it is." He went on to say, "Marriage can only be founded on love, and it's silly to try and read into the ceremony to 'honor and obey.' I never heard of a woman obeying- her husband, anyway- and what is the use of making them lie every time they stand up before a minister. If the present marriage system was right, we wouldn't have all these divorces." Instead of including obey in their vows, the couple stated that they would "love, honor, and cherish" each other.

Before the ceremony, the couple and their guests had a wedding meal of tomato soup, roasted chicken, salads, breads, boiled tongue, coffee, and lemonade. They held the ceremony in a circle of roped evergreens and sunflowers, with "truth, honor, love, and justice" written at each directional point.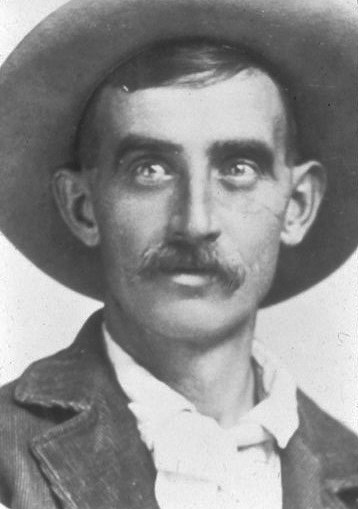 Both John Otto and Beatrice Farnham had reputations for holding eccentric views for their time. In addition to his advocacy for creating the monument, Otto was a fervent supporter of worker's rights. Having worked as a miner in Washington, Otto understood the dangers of the profession. He and his mining partner narrowly avoided a tunnel collapse during one of their night shifts blasting rock. His experiences pushed him to support improvements to working conditions, including an eight hour work day and safer working conditions.
Otto was a known supporter of women's voting rights and of Prohibition, writing: "Each community has something to be particularly thankful for all through the season, so perhaps Grand Junction, as a city, is particularly thankful to the Great Ruler of the World that the old saloon- the destroyer of life, the wrecker of homes and institutions, was again barred out."
Beatrice Farnham's views on American women were also considered eccentric for the time period. She spoke out against the 'Four Hundred,' a register that was first published in 1892 of the social elite in New York during the Gilded Age. Farnham wrote to the press, saying "The woman of today has more chance to maintain her self-respect in the West, where man is supposed to be rough and uneducated and uncultured, than in the drawing rooms of the millionaires of the East."
Despite their similarities, John and Beatrice's marriage was short-lived. Beatrice found the reality of John's life incompatible with her own, saying: "I tried hard to live his way, but I could not do it, I could not live with a man to whom even a cabin was an encumbrance."
A few weeks after the wedding, she left Colorado, never to return. She would continue her work as an artist, designer, and sculptor, and travel to Jerusalem. She eventually moved to Virginia with her mother. Beatrice Farnham passed away at the age of 103, in Virginia.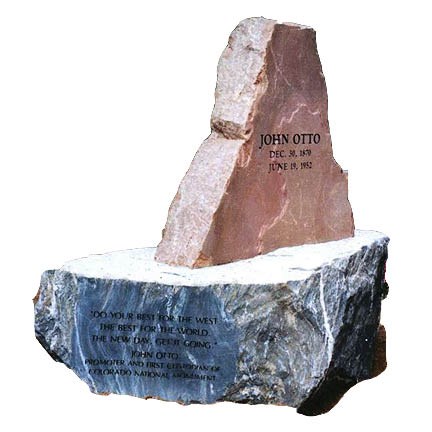 John Otto retired after 16 years as the park's superintendent, and in 1932 left the Grand Valley. He headed west and made a new home in an old Post Office building in Yreka, California. He painted the small building red, white, and blue. There, he made a living panning for gold on the Klamath River and working in a mine near his home. His neighbors described Otto as well-groomed and saw him as eccentric, but harmless.

John Otto died on June 19, 1952 at the age of 81 of a massive coronary. He had clothing, tools, $44 dollars in cash, and four $25 dollar war bonds at the time of his death. Without the money to pay for a proper headstone, he was buried in a pauper's grave in the Evergreen Cemetery in Yreka. Girdner Funeral Chapel waived their normal fees to give John Otto a respectable funeral.

The John Otto Memorial Headstone Project was started by a group of volunteers from Grand Junction, who wanted Otto to have a fitting memorial for his gravesite. After raising funds for the headstone, they held a ceremony in Yreka on June 19, 2002, the 50th anniversary of Otto's death.
Last updated: December 26, 2022