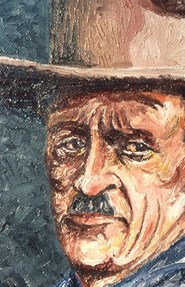 ONE MAN'S VISION
When John Otto first saw the rugged redrock canyons south of Grand Junction in 1906, it was love at first sight. The following year he wrote . . .
"I came here last year and found these canyons, and they feel like the heart of the world to me. I'm going to stay and build trails and promote this place, because it should be a national park."
Otto spearheaded fundraising campaigns, collected signatures for petitions, and penned newspaper editorials and endless letters to Washington politicians in support of national recognition for the ancient canyons and towering monoliths of his adopted home.