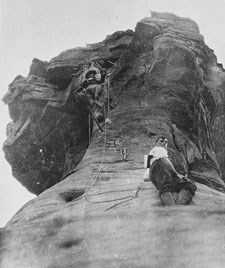 Freedom Flies High
When John Otto, an expert trail builder and the first caretaker of Colorado National Monument, boldly scrambled up Independence Monument on July 4, 1911, he launched a unique tradition honored by the park and community today. After reaching the 450-foot high summit of the iconic sandstone tower, Otto hoisted the United States flag to celebrate Independence Day. He was truly a free spirit.
Today, 100 years after his historic achievement, Otto's legacy remains a vital community event. About 30 Grand Valley area climbers will follow his footsteps up the west face of Independence Monument on the morning of July 4th with the expert guidance of the Mesa County Search and Rescue team.
The climbing route has historic significance. In order to make the first ascent in 1911, Otto hand-drilled holes up the north and west face of the sandstone monolith and pounded iron pipes into the holes, creating an iron ladder for others to follow.