Jobs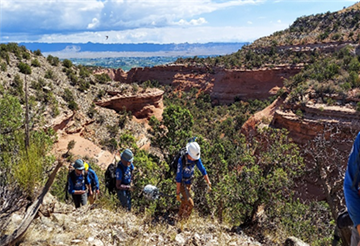 Youth Conservation Corps
Deadline extended to April 29, 2022
Are you a youth between the ages of 15 and 19 who would like to work for a summer at Colorado National Monument? In addition to the work, you will learn about environmental, archeological and paleontological preservation, resource management, and future career opportunities with public land management agencies.

Colorado National Monument staff are recruiting for ten (10) young people to join their Youth Conservation Corps. For the summer of 2022, the work will take place from June 6 to July 29. Pay is $15/hr. Applications are due by close of business on April 15, 2022 April 29, 2022.
Proposed projects and learning opportunities
* Ongoing work on existing trails
* Revegetation of native plants
* Assisting with scientific field work
* Educational trips and service projects
To be eligible for participation in the program, you must:
be a citizen of the United States of America
have reached the age of 15 by June 6, 2022, but will not reach the age of 19 by July 29, 2021
have a social security card
not have participated in YCC within the past three years
have no history of serious criminal or anti-social behavior
be able to obtain parental or legal guardian consent to enroll in the YCC program
be able to attend the orientation on June 1st and the full 8-week program from June 7th through July 30th
be able to provide proper work clothing (long sleeve shirts, trousers or jeans, etc.)
have transportation to/from the park or to/from a designated meeting place in Grand Junction or Fruita.
(Handicapped youth who with reasonable accommodation can perform the essential functions of the YCC program are also eligible.)
To Apply:
The application is available on-line or you may e-mail or call (970-858-2800) the staff at Colorado National Monument for a copy.

Completed applications should be mailed to:
Colorado National Monument
1750 Rim Rock Drive
Fruita, CO 81521
Atten - YCC Program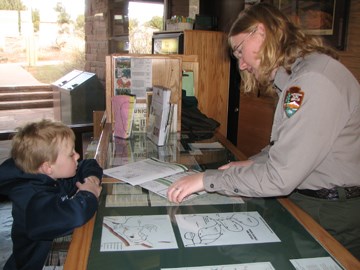 Current Vacancy Announcements
Information on current position vacancies with the National Park Service, Colorado National Monument and other agencies, can be obtained at the following website: www.usajobs.gov
Career Employment Information
When a position is advertised, it is uploaded to the Internet. If we are recruiting for a position, it will be included with the rest of the Department of the Interior's recruitments. The address to find announcements is: www.usajobs.gov. You may want to check the website periodically for vacancies. Applications are accepted only when a vacancy occurs and only during the time period specified in the announcement.
We have very little turnover in our permanent staff, so you may want to consider temporary or seasonal employment with us.
When you apply for federal positions, your application/resume is reviewed for qualifications based on either your education or work experience or a combination thereof. In addition to basic qualifications, an announcement will either have knowledges, skills, abilities, and selective factors, or an assessment questionnaire. To qualify and be listed on the certificate of eligible candidates for a job(s), you will need to meet basic qualifications and provide detailed documentation of your experience, education, training, etc. related to the knowledges, skills, abilities, or selective factors for that job(s).
We hope this information assists you in future employment endeavors. Thank you for your interest in employment with Colorado National Monument and the National Park Service.
Last updated: April 15, 2022