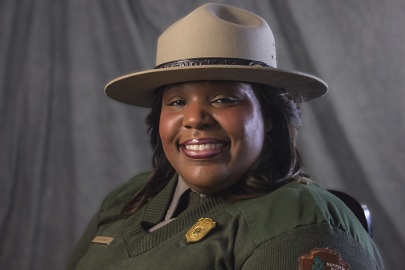 News Release Date:
January 27, 2015
Contact: Rick Perkins, 740-774-1126
First Park Superintendent Named  
Joy G. Kinard has been selected as Superintendent of the Charles Young Buffalo Soldiers National Monument (Charles Young) in Wilberforce, Ohio.She will begin her new assignment in late-February."We are delighted that Dr. Kinard will be the next superintendent of Charles Young," stated Acting Midwest Regional Director Patricia Trap."She is also well-known and well-respected throughout the Mid-Atlantic region as a scholar of African American History and Culture, having led African American National Historic Sites for three years.We know she will have great success working with the partners and community leaders to ensure the preservation and enjoyment of this monument, honoring such an accomplished leader like Colonel Charles Young and resilient veterans who served this country as Buffalo Soldiers."
"I am extremely honored to have been entrusted with the awesome responsibility of leading the stewardship efforts for Charles Young Buffalo Soldiers National Monument and I cannot wait to begin working with the incredible partners and community to create the next generation of stewards and supporters of this special place. Together, we will care for, restore, and share these amazing stories and resources with all people as we prepare to celebrate the Centennial of the National Park Service in 2016" said Kinard.
Dr. Kinard is experienced in connecting with local communities in the Washington, D.C. area and national partners, such as the National Council of Negro Women, Inc., the Association for the Study of African American Life and History, and the National Trust for Historic Preservation.
Dr. Kinard is a native of Washington, D.C.  For the past 18 years, she has worked for the National Park Service (NPS) in various capacities.  She has been a contributing author in many publications,  including the Oxford University Press, W.E.B. DuBois Institute of Harvard University, and the New York Historical Society. She has been featured in the HGTV documentary, African American Historic Homes produced by High Noon Entertainment, where the focus was the home of Frederick Douglass; and was recently featured on C-SPAN to observe Women's Equality Day by the Sewall Belmont House and Museum. In addition, she has studied race relations abroad in Paris, London, and St. Catherine's, Canada as part of a Howard University Cultural Study Tour. She also served as an adjunct professor in the Department of History at the University of the District of Columbia for seven years.
Kinard is a graduate of Livingstone College, where she earned a Bachelor's Degree in Social Work &Sociology. She is also a graduate of Howard University, where she earned a Master of Arts Degree in History and a Ph.D. in U.S. History with a minor in Public History and Caribbean Studies.