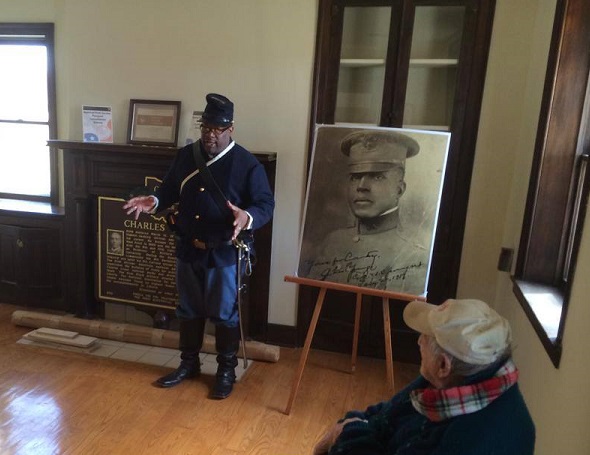 News Release Date:
September 22, 2014
Contact: Jewel Haskins, 937-225-7705
National Parks Travelers Club Flat Hat Award 
Date: Friday, October 3rd
Time: 11:00 am
Location: "Youngsholm" Charles Young House, 1120 U.S. Route 42 East, Wilberforce, Ohio
Join us and members of the National Parks Travelers Club on Friday, October 3rd at "Youngsholm" as Park Ranger Reggie Murray is presented with the inaugural Flat Hat Award from the National Parks Travelers Club.  Ranger Murray is being recognized for his exemplary work at the 401st National Park Service site, Charles Young Buffalo Soldiers National Monument.  Tours of the site and a living history demonstration will also take place on the date of this event.
Ranger Reggie Murray has been with the National Park Service for 18 years as an interpretive park ranger.  He currently works at William Howard Taft National Historic Site in Cincinnati, Ohio and provides interpretation support for Charles Young Buffalo Soldiers National Monument.  Ranger Murray also takes part in living history interpretation as a soldier of the 9th &10th Cavalry units of the Buffalo Soldiers in the post-Civil War era.
The Flat Hat Award honors one National Park Service ranger per year who has gone out of their way and beyond their normal duties to help the club, or one of its members to enhance their visits to a park unit.  Member submitted nominations are evaluated by a 3 member panel and the winner is then announced at the group's annual meeting.
"Youngsholm" is located at 1120 U.S. Route 42 East, approximately 3 miles east of Xenia and less than 1 mile west of Wilberforce and Central State Universities.  It was the homestead of Colonel Charles Young, the third African-American graduate of the West Point Military Academy and the first African-American national park superintendent.  For a map and directions to the house, please visit the directions page.