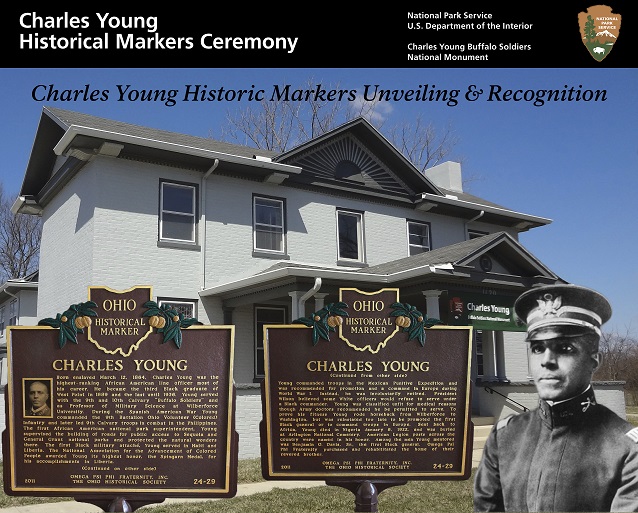 News Release Date:
May 1, 2014
Contact: Robert Parker, 513-607-0315
Charles Young Historic Markers Unveiling & Recognition Ceremony
Date:

Saturday, May 10th, 2014


Time:

3:30 PM
Location:

Charles Young Buffalo Soldiers National Monument
1120 U.S. 42 E, Wilberforce, Ohio
Join the National Park Service's (NPS), Charles Young Buffalo Soldier National Monument (CHYO), the National Afro-American Museum and Cultural Center (NAAMCC), the Ohio History Connection (OHC), and the Omega Psi Phi Fraternity, Inc., (ΩΨΦ) among others, to celebrate the unveiling of two historic markers on the grounds of the Charles Young Buffalo Soldiers National Monument, Saturday, May 10, 2014 at 3:30 p.m. The recently designated monument is located at 1120 US Route 42 E, Wilberforce, Ohio 45385. The Ohio Historical Markers program, begun in the 1950s, encompasses about 1,400 unique markers that tell the state's history as written by its communities. Markers are erected by local community sponsors in partnership with the Ohio Historical Society and describe the people, places, and events of Ohio's past.
In 2011, the Omega Psi Phi Fraternity, Inc. and The Ohio Historical Society sponsored the creation of the Charles Young Historical Marker that will be unveiled May 10, 2014 on the 130th anniversary date of Charles Young's acceptance of his nomination to West Point, which set him on the path to his military achievements with the Buffalo Soldiers. In addition, the National Historic Landmark Plaque will also be unveiled along with a formal recognition of the many partnerships, stakeholders and public involvement that helped preserve, protect and educate the general public on the life and legacy of Colonel Charles Young and the Buffalo Soldiers. This special event will also feature remarks & presentations from NPS officials, NAAMCC & ΩΨΦ representatives, and Charles Young biographer, Brian Shellum, along with local dignitaries. The ceremony will conclude with an open house reception, tours of the Charles Young home, and displays of materials from the Colonel Charles Young collections from the NAAMCC.  
For a map and driving directions, visit the Directions page on this website.