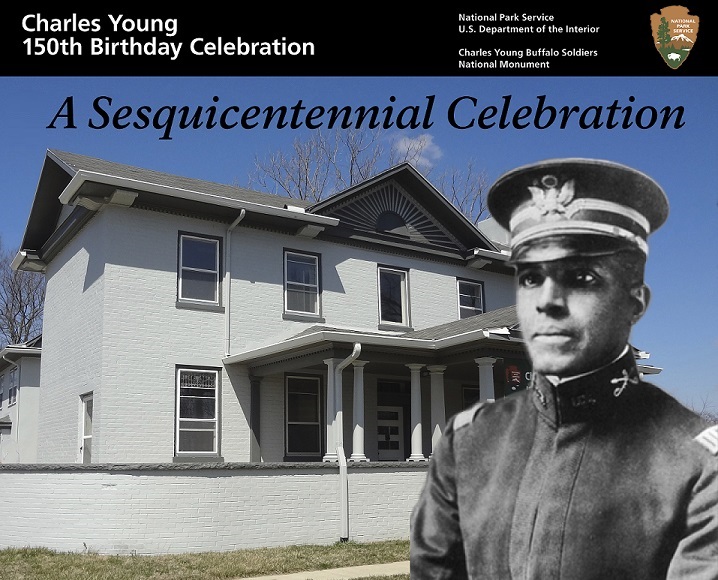 News Release Date:
March 4, 2014
Contact: Robert Parker, 513-607-0315
A Sesquicentennial Celebration  
Date: Wednesday, March 12th, 2014
Time: 6:00 P.M.
Location: National Afro-American Museum & Cultural Center (Central State Univ. campus)
Opening keynote speaker for this inaugural birthday celebration will be Brian Shellum, a Senior Intelligence Analyst with the Joint Improvised Explosive Device Defeat Organization with the U.S. Department of Defense. Shellum worked as a Federal Historian at the Defense Intelligence Agency (DIA) for 12 years from 1994 to 2006. Prior to that he served in the U.S. Army as an Armor Officer and West European Foreign Area Specialist before retiring in 1994. He graduated from the United States Military Academy at West Point, and holds an MS degree from Campbell University, and studied at the University in Bonn. He published a book on Charles Young, titled Black Cadet in a White Bastion: Charles Young at West Point, in 2006. His second book on Young, Black Officer in a Buffalo Soldier Regiment: The Military Career of Charles Young, was released by the University of Nebraska Press in 2010.
This special event will also feature remarks & presentations from NPS/CHYO officials, NAAMCC & ΩΨΦ representatives, local dignitaries, and musical selections by invited guest, the Wilberforce University Gospel Choir. The ceremony will conclude with an open house reception of the National Afro-American Museum and Cultural Center where a number of materials from the various Colonel Charles Young collections will be on display.
The event is part of an ongoing series of public programs offered by the Charles Young Buffalo Soldier National Monument, to promote public understanding of the history and special places that have been included in the national park system.
For more information, please call 513-607-0315