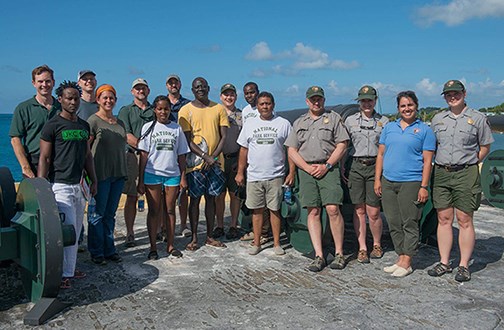 Slave Wrecks Project
Christiansted National Historic Site is a proud partner in the Slave Wrecks Project (SWP), an international network of researchers and institutions that combines collaborative maritime exploration and investigation with training, heritage protection, exhibits, and education to build and share new knowledge about the history of the global slave trade. SWP partners work in museums and in archives, on coastlines, and in the sea in a dynamic approach to public history that intersects with the latest in science, archaeology, anthropology, and historical research. SWP is building a global network with local and regional roots and works in a growing list of locations from Mozambique to South Africa to St. Croix, Senegal, Brazil, and Cuba.

Since 2010, the Slave Wrecks Project (SWP) has fostered public and scholarly understanding of the role of the African slave trade in shaping global history by using maritime archeology as the vehicle for examining enslavement and its far-reaching global impacts. The archeological investigation of slaver shipwrecks and related terrestrial sites, such as markets in which the enslaved were sold, places where they lived and worked, maroon sites and encampments, and Free Black communities, promises to provide a new perspective to bear on our understanding of the Trans-Atlantic and Indian Ocean trades in enslaved people and on the central role that this process played in constituting the modern world.