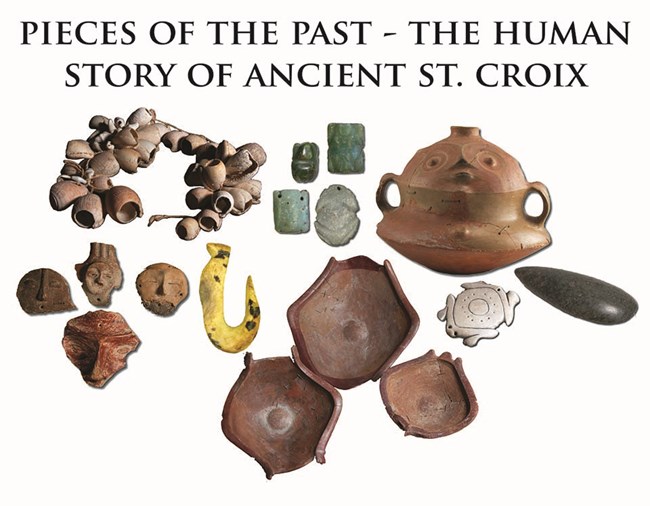 Pieces of the Past - The Human Story of Ancient St. Croix
The pre-Columbian people of St. Croix were part of an Arawakan interaction sphere, a set of culturally similar means of settlement, food production, long distance trade, and iconography etched, carved, and painted on pottery, shell, bone, and stone. An Arawakan diaspora began ca. 500 years Before Common Era (BCE), with people, languages, and cultures expanding up and down the Orinoco River, toward the coast, to the Guianas, and into the Caribbean. St. Croix was on the frontier of this Arawakan world, a world comprised of many different societies and communities that lived and traveled across the entire region.

This exhibit features artifacts collected by Folmer Andersen between 1916 and 1931, from several prehistoric village sites across St. Croix. This collection of over 13,000 prehistoric objects is under the care of the National Park Service at Christiansted National Historic Site.
In this exhibit we explore the routines of daily Amerindian life, the mundane and the sacred, on AyAy, today called St. Croix. We put a face to the first settlers of St. Croix, to the people who arrived by canoe over 2,000 years ago. Through historic documents and personal accounts, ethnographic research, and archeological evidence we are beginning to understand their ways of living, how they envisioned their landscapes, how they organized their villages and houses, their concepts of the sacred, and how they maintained connections with others across vast distances.