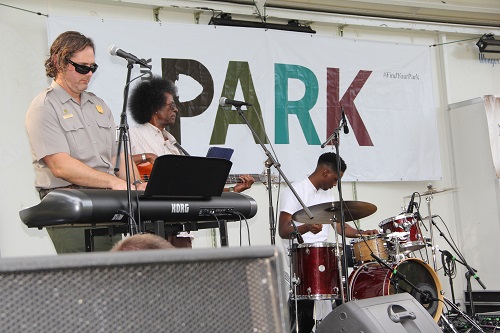 News Release Date:
May 16, 2017
Contact: Dawn Davis, 843-883-3123, x213
Audiences of all ages are invited to come out on Sunday, May 28 at 2:00 pm to the Charles Pinckney National Historic Site for a special concert featuring the Arrowhead Band. Their performances will highlight the development and history of Jazz through music and vocal description. This interactive program follows the progression of Jazz from the rhythm of Africa to the melodic lines of the Irish.  The show will last approximately one-hour and is free. Visitors are encouraged to bring water, sunscreen, insect repellent, and a chair or blanket.
The Arrowhead Band is based at the New Orleans Jazz National Historic Site. The band is comprised of National Park Service musicians who travel around the country to enhance and instill a public appreciation and understanding of a uniquely American music art form-jazz.  During the National Park Service centennial year, 2016, the band traveled over 10,000 miles, visiting 12 states, and performing for over 27,000 people. To learn more about the Arrowhead Band, visit www.nps.gov/jazz or www.facebook.com/NewOrleansJazzPark.
The Fort Sumter Visitor Education Center at Liberty Square is located at 340 Concord Street, Charleston. This site serves as the principle departure site for the concession-operated ferry for Fort Sumter. The Center also serves as a museum with exhibits focusing on causation of the Civil War, Charleston during the Antebellum Period, and Fort Sumter on the eve of war.
Charles Pinckney National Historic Site is located at 1254 Long Point Road, Mount Pleasant. This historic site is a 28-acre remnant of Charles Pinckney';s Farm plantation. Today, an 1828 low country cottage serves as the park's visitor center and museum which feature exhibits and a film about Charles Snee at Pinckney';s, Facebook, and www.facebook.com/FtSumterNPS. Visit the park www.facebook.com/FtMoultrieNPS at www.facebook.com/PinckneyNPS and websites, or call 843-883-3123. You can also share your park experience with others by posting on social media with the www.nps.gov/fosu #www.nps.gov/chpi. Come find yours today!