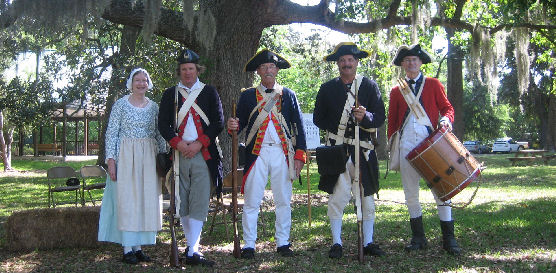 News Release Date:
August 13, 2012
Contact: Bill Martin, (843) 883-3123 x 11
Join Charles Pinckney National Historic Site in celebration of Constitution Week by attending one of the many free special events scheduled September 17-23, 2012 at 1254 Long Point Road in Mount Pleasant. The park preserves the last 28 acres of Snee Farm, a plantation that was once owned by Charles Pinckney, a principal framer and signer of the U.S. Constitution.
In honor of Constitution/Citizenship Week, on Tuesday, September 18 at 10:30 a.m. the 15th annual naturalization ceremony will be held when up to 125 candidates will be sworn in as America's newest citizens.
The National Park Service and the U.S. Citizenship and Immigration Services have a partnership to enhance citizenship ceremonies by holding them in national parks throughout the country. Since 1997 these ceremonies have been held annually on the grounds of historic Snee Farm. "This is a most appropriate site to welcome new citizens into this country and to reflect on the meaning and responsibilities of citizenship," said Superintendent Tim Stone. "It is because of Charles Pinckney's role in framing the U.S. Constitution and the initiative of local citizens that this treasured place is a part of the National Park System." The public and school groups are invited to the program and are encouraged to bring chairs or blankets as seating will be limited.
A day of living history is scheduled on Friday, September 21 from 10:00 a.m. to 2:00 p.m. Watch craftsmen in period dress demonstrate rice-pounding, indigo-dyeing, iron-smithing, brick masonry and domestic arts. Also included are programs on Charles Pinckney, Revolutionary War soldiers, sweetgrass basket sewing, quilting, African drumming and Gullah story-telling.
On Saturday & Sunday, September 22 and 23 at 2:00 p.m. the public is invited to a screening of the 2010 documentary on Founding Father Charles Pinckney. Produced by SCETV, Forgotten Founder: the Story of Charles Pinckney uses original art work, period illustrations, historical documents, dramatic reenactments and studio interviews to tell the story of a true public servant. The program was funded in part by the Friends of Historic Snee Farm and the Humanities Council SC.
Throughout the week visitors may take part in the "I Signed the Constitution" program, signing a scroll in remembrance of what occurred 225 years ago in Philadelphia when Charles Pinckney and 38 other delegates signed the world-changing document on September 17, 1787.
All events are free. For more information or group reservations, please call the park at (843) 881-5516.