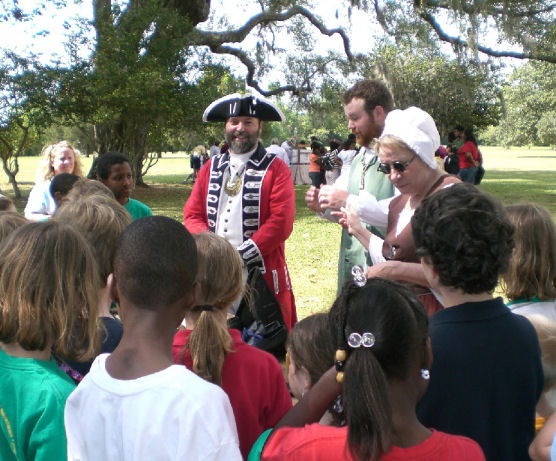 News Release Date:
March 24, 2008
Contact: Carlin Timmons, (843) 881-5516
Charles Pinckney National Historic Site presents "Colonial Days" from 10:00 a.m. to 2:00 p.m. on Friday and Saturday, April 25 and 26, 2008. Watch craftsmen in period dress demonstrate rice-pounding, indigo-dyeing, iron-smithing and brick masonry. Visitors can participate in a game of historic cricket. Also included are Revolutionary War soldiers, 18th century music, sweet-grass basket sewing, quilting, African drumming, Gullah story-telling and visits from Eliza Lucas Pinckney, Thomas Sumter and George Washington.
A permanent portal to the online exhibit Centuries of Citizenship: A Constitutional Timeline will also be featured. This online, interactive experience highlights many of the key dates and events that mark more than 200 years of constitutional history. This new exhibit is made possible through a partnership with the League of Women Voters and the National Constitution Center.
All programs are free and the park charges no admission.
Charles Pinckney National Historic Site preserves a 28-acre remnant of Snee Farm, the lowcountry plantation of Charles Pinckney, a founding father and framer of the United States Constitution. Located at 1254 Long Point Road in Mount Pleasant, the park is open daily from 9:00 a.m. to 5:00 p.m. except for Thanksgiving, Christmas and New Year's Days. For more information, call (843) 881-5516.