An afternoon with Courageous Kate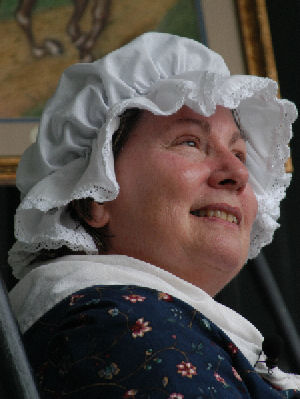 News Release Date:
October 29, 2007
Contact: Carlin Timmons, (843) 881-5516
The public is invited to a special program at Charles Pinckney National Historic Site on Saturday, November 17 at 2:00 p.m.  Sheila Ingle, author of
Courageous Kate: A Daughter of the American Revolution
, will present a dramatic program from her new fictional biography for young adults.  Based on the life of Kate Moore Barry, the book is a compelling account of a young heroine who rode out from her Carolina backcountry home to warn Patriot militias of enemies on the move. The author weaves together history, folklore and fiction to create a memorable story about life in South Carolina during the 1700s.  A storyteller and educator, author Ingle engages family audiences with her colonial costumed interpretation.  Ingle's presentations are not just about Kate Barry, but also about the courage and bravery of those that fought as patriots during the American Revolution.  The Daughters of the American Revolution presented Ingle with their Historic Preservation Award for "preserving the history of a South Carolina Heroine, Kate Barry, with her children's book for all ages."  A book-signing and refreshments will follow the free public program.  Courageous Kate is available for sale in the park bookstore.
Last updated: April 14, 2015