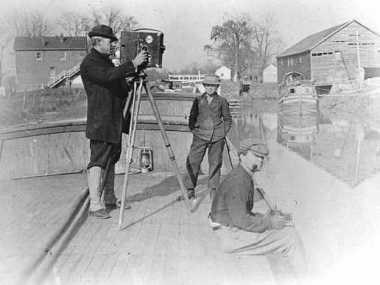 Filming Permit (Short Version)

---
PLEASE REMEMBER:


Any Commercial Filming and/or Photography that take place in Montgomery County Maryland and/or the District of Columbia must be processed through the National Capital Regional Park Programs Division. To obtain an application and additional information, contact the NCR Park Programs Division office at (202) 619-7225.
Our basic responsibility is to protect the natural, cultural and recreational resources for which we, the National Park Service, are ultimately responsible, and to avoid conflict with the public's normal use and enjoyment of the parks. Please remember that aesthetic values such as scenic vistas, natural quiet and dark night skies are resources that we value.

Things We Cannot Do for You
We cannot accommodate a project if
Damage to resources is expected which cannot be prevented or mitigated
Other activities are already planned or expected to occur at the same time and place, and filming or photography would be incompatible
It involves access to areas normally limited to administrative access or closed for resource protection or safety reasons
The level of activity within the park is already so high that we would not have staff to assign to work with you
The project includes portrayal of activities which are not permitted within a recognized park (such as defacing a historic structure, etc.)
The production company is unwilling or unable to obtain the necessary insurance
The production company is unwilling to reimburse NPS for costs or comply with NPS requirement for posting a refundable bond.
Our permits always prohibit

loud noise (gunfire, explosions, playback, etc.) between 5:00 p.m. and 7:00 a.m.
landing any aircraft
nudity
smoking in buildings, on boardwalks or in vegetated areas
harassment of wildlife or introduction of wildlife captured elsewhere
We do not close parks to the public when filming occurs. We will assign a park ranger to assure that there are no conflicts among park uses. Although we allow the public to watch you work, we do NOT advertise when, where, or what filming is occurring in our parks.

Cost Recovery
The National Park Service is required to recover all costs associated with permits for filming and photography. Administrative charges, including evaluation of the application and processing the permit, are mandatory and non-refundable. Location charges are estimated based on the information you provide in your application. All charges must be paid before work can begin on NPS property. Any monitoring costs, such as overtime, are posted as they occur. Monitoring charges must be paid within 7 days of the invoicing.
Under Public Law 106-206, all commercial filming and still photography activities are subject to location fee. This fee is set within a schedule and based on the number of people on-site per day.
Insurance Requirements

Evidence of commercial liability insurance is required. The insurance certificate you present must:
Identify the production company by name with the business address. If there is another company name involved, the relationship between the two company names must be indicated on the certificate.
Name the "U. S. Government, National Park Service" as additionally insured. Use the address of C&O Canal NHP headquarters, 1850 Dual Hwy, Suite 100 Hagerstown, MD 21740. Certificates which only name the park as "certificate holder" are not acceptable.
Indicate commercial liability insurance coverage. Personal or homeowners liability is not acceptable.
Be generated by the insurance company. Hand written "certificate holder" information is unacceptable.
We will accept a FAX copy of the certificate until your insurance company can mail us the original.

Although the National Park Service only requires commercial liability insurance, you must also adhere to insurance requirements set by the State of Maryland, including workman's compensation. Contact the Maryland Workers Compensation Commission for additional information.

The minimum acceptable amount of liability insurance is $1,000,000.00 per occurrence and $2,000,000 aggregate. High risk activities or activities which may have the potential for resource impact may require higher liability amounts. Contact our office for details.

A request for a permit may be denied if there is no proof of adequate insurance.

We keep insurance certificates on file until they expire. If we have your current certificate on file, you will not have to submit an additional certificate. We will also accept automatic renewals.