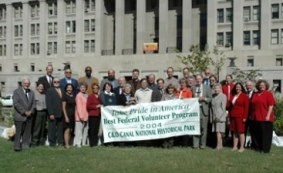 Secretary Norton recently presented volunteers and employees of the Chesapeake & Ohio Canal National Historical Park with "Take Pride in America's" federal volunteer program award, the highest designation for a federal agency volunteer program. The park's award is for its VIP program.

"Take Pride in America" is a national partnership program that engages, supports and recognizes volunteers who work to improve the nation's public lands.

"You have touched others with the gifts of your time and talent," said Norton. "Your efforts at stewardship on behalf of public lands in this country are a testament to the value that volunteers provide to all Americans."

Showing a significant increase in the number of volunteers and hours contributed, over the last year the park's VIP program grew from 1,847 volunteers to 2,396 volunteers, who contributed an estimated value of $840,041 to the park. One staff person directs the park's VIP program with the help of an intern who works with the park's five visitor centers.

The park's VIP program has been designed to run virtually independently in order to allow park staff to concentrate on other necessary duties. With partnerships across multiple organizations, the VIP program's efforts focused on recruiting and retaining students and senior citizens in 2005.

The park's VIP program engages youth, students and seniors in volunteering for the bike patrol program, administrative work in the visitor centers, as campground hosts or as a living history interpreters, as docents at lock houses, as trail maintenance volunteers, campground hosts, resource management assistants, volunteers who conduct annual winter bird surveys to level walkers who walk the towpath and update park staff on conditions.

The bike patrol program alone has over 160 members who contributed over 5,700 hours to the park in 2004. Park volunteers removed tons of trash during clean up projects, both along the canal and the banks of the Potomac River. VIP program members pruned 20 miles of towpath, repaired five miles of trails and engaged youth in various programs, often providing the first experience in a national park.

In 2004, the park's VIP program began a "western-end initiative" designed to increase volunteers in the western end of the park, located in mostly rural areas of Washington and Allegany Counties, Maryland. Focusing on community service requirements of schools, over 18 service projects were started with over 580 volunteers who donated 2,273 hours.

In Montgomery County, in partnership with the Potomac Appalachian
Trail Club (PATC), volunteers donated time to maintain the network of trails in the Great Falls area, helping to keep popular trains open and safe. The PATC volunteers led a group to implement the park's "Leave No Trace" program in order to reduce visitor impact on Bear Island, home to the popular Billy Goat Trail. Through a conservation grant from REI Outfitters, the PATC joined the Nature Conservancy and the park's VIP program to provide "Leave No Trace" training to 10 trail stewards who provided education to hikers on how to minimize impacts on the Billy Goat Trail.