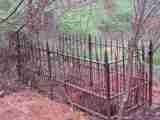 Information Sought for Grave Disturbance in Hancock within C&O Canal Boundaries

By Ryan Peabody, Acting Chief Ranger, 301-714-2222
and 24-Hour Toll Free Tip Line, 866-677-6677
May 11, 2006
Date
May 11, 2006

Information is being sought for the disturbance of a small historic cemetery which took place on or before Thursday, April 13, in the vicinity of Hancock within the boundaries of the Chesapeake & Ohio Canal National Historical Park. The disturbed gravesite of Mary Ohr, who died October 10, 1875, is marked with a large elaborate headstone surrounded by a wrought iron fence.
The disturbance included two large piles of dirt just outside the fence, as well as 15 smaller holes dug in the surrounding area. National Park Service archeologists were dispatched to the site. They determined that the coffin had been entered and that metal detecting activity may have taken place. The Archeological Resources Protection Act of 1979 (16 U.S.C. 470) was enacted to protect archaeological resources on public lands as these resources have become increasingly endangered due to their commercial attractiveness.
Mary Ohr was married to Dr. Charles H. (C.H.) Ohr and was the daughter of Daniel and Ann Blackwell. Dr. and Mrs. Ohr were residents of Hancock before moving to Cumberland in 1847. Dr. Ohr was the mayor of Cumberland from 1859-1866, spent several years as a member of the Maryland state senate and was once the Grand Master of Masons of the Grand Lodge of Maryland.
An active investigation is underway by National Park Service agents and park rangers of the Chesapeake & Ohio Canal National Historical Park. Anyone with information relating to this investigation is urged to call the National Park Service's 24-hour toll-free tip line at 866-677-6677. A $1,000 reward is being offered for information leading to a successful conviction of the perpetrator(s). Callers may remain anonymous. The National Park Service has also attempted to locate any living relatives of Mary Ohr without success. If you believe you are related to Mary Ohr, please call the tip line given above.