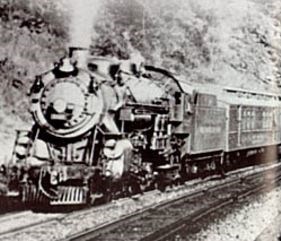 The joyful crowd gathered early on October 10, 1850, as the Independent Blues Band played. Folks came from far and near to celebrate the long awaited opening of the Chesapeake and Ohio Canal between Cumberland and tidewater Maryland. A procession of citizens and officials marched to the locks at the mouth of Wills Creek where five coal boats waited to start the run down to Georgetown.
"Many of us were young when this great work was commenced," said the spokesman for the town, "The opening of yonder gates to let through the first boat carrying freight...is the turning point in the history of the canal."
An Engineering Marvel
To reach Cumberland, canal engineers began near the nation's capital in 1828 to construct 184.5 miles of ditch and towpath. They built 74 locks, 7 dams, 11 aqueducts and a 3,118-foot tunnel--remarkable achievements with the tools of the day. As each dam was completed, diverting water from the Potomac River into the canal, boats began using the watered sections. The canal arrived opposite Harpers Ferry, Virginia (later West Virginia), in 1833 and reached Hancock, Maryland, in 1839. Work on the final 50 miles was stalled by labor unrest, financial troubles and the challenges constructing the tunnel at Paw Paw.
Meanwhile, the nation's first railroad, the Baltimore & Ohio, steamed into Cumberland in 1842. The railroad, which had begun its East-West route the same day as the canal won the race to Cumberland. Passengers could continue the trip from Baltimore to the Ohio Valley by boarding a horse-drawn stagecoach at Cumberland and crossing the mountains on the National Road. The railroad eventually continued westward but the canal company abandoned plans to build the waterway farther than Cumberland.