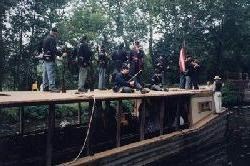 The War Between the States, 1861-1865.
The C&O Canal runs alongside the Potomac River. The river was a dividing line between the Union and the Confederacy during the Civil War. The canal was strategically important to both sides. Union forces protected the canal and used it for transportation purposes, moving troops, coal, and war supplies. Confederates tried to damage both the canal and boat traffic. It became the subject of many raids by famous confederate cavalrymen such as Jeb Stuart and John Mosby. Canal mules were taken for the war efforts of both the North and the South. Both sides used the towpath as a road when war came into the state of Maryland.
The people who worked on the C&O Canal were divided by the war. Boatmen joined both sides and fought against former friends and neighbors. Several campaigns were fought on or near the canal.