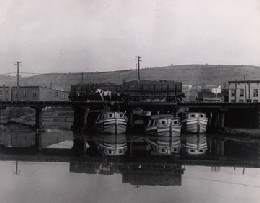 Canal Operation 1850-1924
The seven-day trip from Cumberland to Georgetown was a long and demanding journey. Most of the family's eighteen-hour day was devoted to moving the cargo, mostly coal, down the canal. The hours on the quiet stretches between locks could be tedious, but encounters with other boats and locking through furnished the opportunity for all-too-brief exchanges with other canallers.
Because the boat was designed for cargo, those aboard had to content themselves with the smallest of accommodations: a 12'x12' cabin was the family's quarters for the trip. Although small, the cabin contained all the necessities: a coal burning stove, bunk beds with hay mattresses, a table, and a small cupboard for supplies. The boats also included a stable for the mules and a hay storage area.
Lock tenders were also an important part of canal operations. Living in rent free houses just beside their locks, the lockkeepers worked "dawn to dawn", constantly on duty to lock through approaching boats. The lock tender listened for the boatman's horn and his cry of "Hey-y-y-y Lock!" which signaled the canal was, at any hour, hard at work.
Mother Nature's wrath took its toll on the canal over the years. Repeated flooding closed the canal for months, even whole seasons. Furthermore, the canal could not match the speed or dependability of its rival, the Baltimore & Ohio Railroad. The railroad, which stretched west many years ahead of the canal, had captured almost all of the canal's trade by 1924 when another devastating flood struck. This time, no repairs were made and the canal ceased commercial operations.