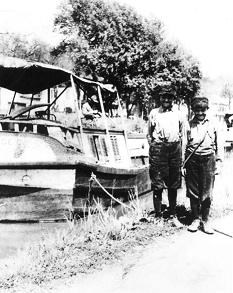 Interviews by Park Ranger Susan Fauntleroy , 1992
We are at the home of Mr. Lambie Benner of Sharpsburg, Md. He is joining us today with his friend Boogie Grove. Both of you live in Sharpsburg and Mr. Grove and Mr. Benner are going to talk to us today about some of their recollections about the C&O Canal.
First of all, Mr. Benner, when were you born?
I was born in 1914.
1914, and that makes you how old?
Me, I'm going on 79. 79 years old.
Mr. Grove, how about you? I'm born in 1908. I'm going on 85, March the 24th.
Mr. Benner, let me start with you. Can you tell me anything about your early years and your canal family? Was your Dad a worker on the C&O Canal?
Yes, He was a captain. They called the man at the head of it a captain of the boat, see. That was my daddy. He was the captain of our boat. We're just mule skinners. And, ah, all of us kids, you know, worked for him, drove mules on the canal. See I was on with my sister. She lives up here on Front Alley. And her and I worked together on the canal. My other two oldest sisters was at home then. My daddy used to make us ride the mules at night and sing so he knowed we didn't go to sleep and fall overboard .
You had to sing as you walked down the towpath?
Sing or ride the mules and sing.
Did you get to ride the mules?
Oh, yeah, we'd ride the mules at night. And he was afraid we'd go to sleep and fall off of 'em. You see they was so close to the canal that if you fell off the mule on the inside you went in the canal! And he used to make us sing so he knowed we was still down there.
(Boogie) Sometimes you'd run all night. Boated all night. There's a lot a boatsmen on there boated night and day. But I never got to that. We boated till about 9:00. Tied up. But you wouldn't more than get in bed. 'For you was up. Soon as you pull them harness off them mules, let 'em down and let 'em roll, they was ready to go! Us kids would no more than get to sleep, you'd hear our daddy say, " All right, boys, let's go! Bout 3:00 or 4:00 in the morning. Sometimes we'd run till 11:00 or 12:00 at night.
How did you do school-wise?
Didn't have none. You didn't get into school till late. That's the reason I never got a whole lot of education. They pull you out in April, you never get in till December or last of November. You was so far behind the kids then. Teachers didn't pay much attention to you then, see.
Barefooted all the time. Them old stones down in Point of Rocks, ballast stones off the railroad. Canal company would get 'em, put 'em on the towpath, build the towpath up and all. Boy, they was rough on your feet! It was a rough life for a kid. It really was. It wasn't too bad for them old boatsmen, for most of 'em drank! They lay on the deck and sleep. Go to Washington and Cumberland, they was in the saloons all the time! Yeah, that's true. You know what you'd do here in Sharpsburg? Here in Sharpsburg, all the boatsmen, all of 'em drank, pretty near. They'd take what money they got off the canal, see, be in these bar rooms half the time. But we always had plenty to eat, see. We had gardens and little homes had gardens...raised them, yeah. We'd steal coal off the Canal Co!!!
When you boated on the canal you got $15 a trip. I boated for different peoples after my daddy left the canal. And we'd get $5 of it. Course the man you was boatin' for, he kept it, and give you $2 in Cumberland and $2.50 in Washington. That's what you'd get.