News Release
Significant Progress on the Santa Cruz Island Fire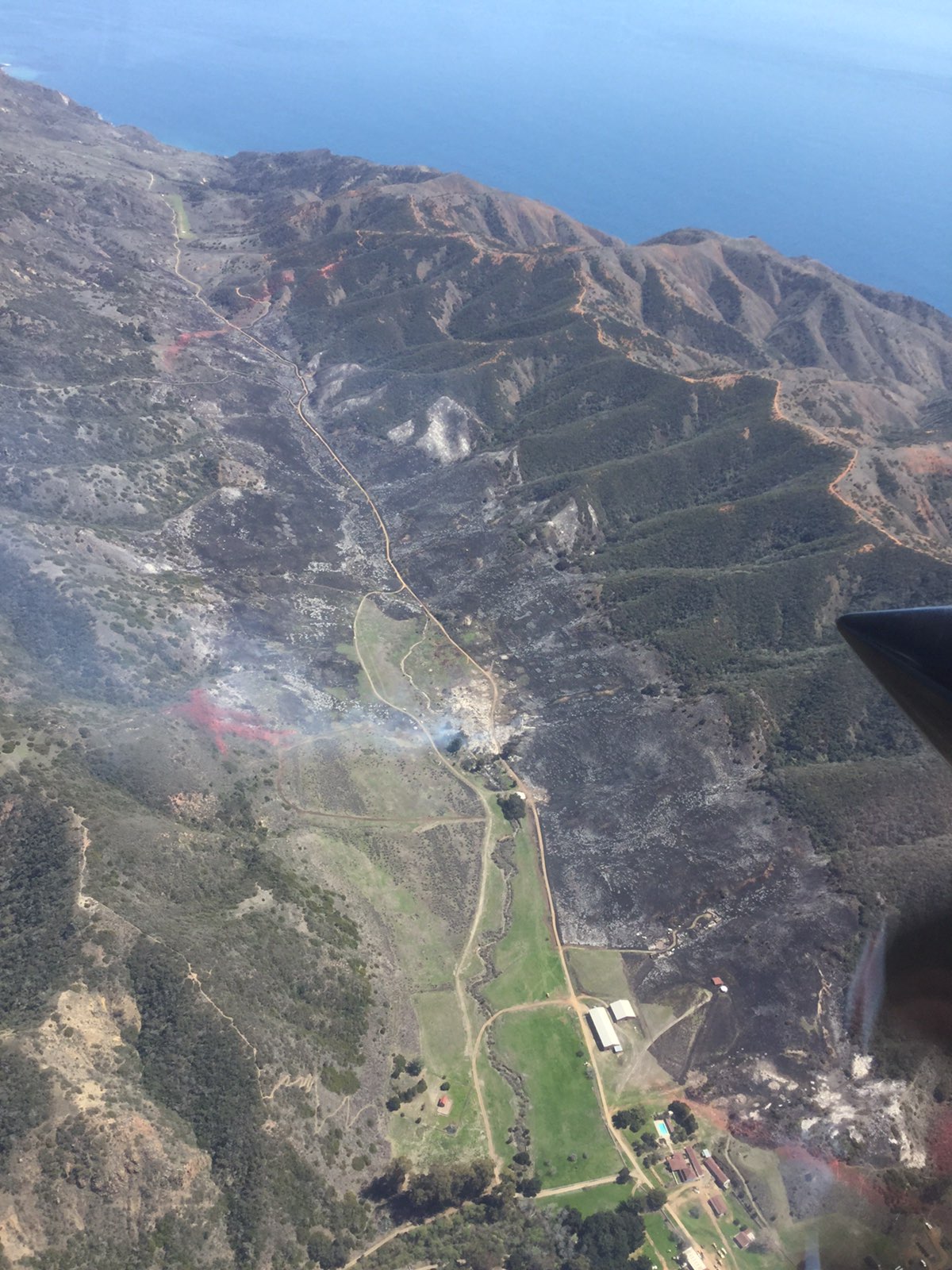 News Release Date:
March 29, 2018
Contact: Yvonne Menard, 805-658-5725
Ventura, CA — Today the Santa Cruz Fire is estimated to be 60 percent contained following intensive effort by firefighters on the ground and consistent air attack.
Air attack is transitioning from the use of air tankers with retardant drops to helicopters water drops as needed. Ground crews are establishing a hand line fire perimeter and are systematically putting out hot spots.
The ground crew effort increased to 95, with an additional 45 firefighters, including a hotshot crew from Tonto National Forest in Arizona and teams from Sequoia and Sierra National Forests in California.
A heavy marine layer and light winds have produced favorable conditions, although winds gusts are possible in the afternoon and evening hours. There was one small non-historic outbuilding lost in the fire and no reported injuries.
"There has been an impressive interagency effort to fight this fire: U.S. National Forest Service and National Park Service sites; Vandenberg Air Force Station; Santa Barbara County Fire; Santa Barbara City Fire; and Montecito Fire," said Channel Islands National Park Service Superintendent Russel Galipeau. "Together, they are managing the logistical challenges of fighting fires on our remote islands and are making incredible headway."
A closure to public access is still in place for the entire isthmus area of Santa Cruz Island. This western edge of the closure extends from the landing pier at Prisoners Harbor 220 degrees in a southwest direction to Willows Anchorage on the south side of the island. The eastern boundary is the Montañon Ridge.
On Friday the east end of Santa Cruz Island including Scorpion Valley and all locations west of the Montañon Ridge will be open.
Santa Cruz Island, at 96 square miles, is the largest in the chain of eight California Channel Islands. The Nature Conservancy owns 76 percent of Santa Cruz Island and the National Park Service owns 24 percent. Together, they cooperatively manage this island as one ecological unit.
Last updated: March 29, 2018