The Lone Woman of San Nicolas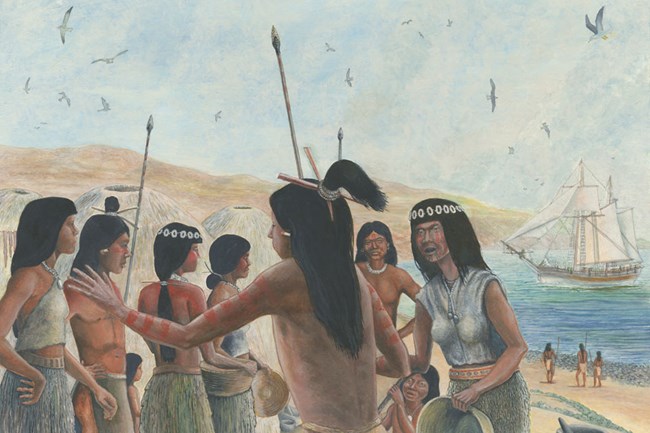 Visit our New Website
Island of the Blue Dolphins
The National Park Service and other partners have developed new a web-based resource that will take readers and researchers to a vast amount of information relating to this woman and her story.
---

Each year, Scott O'Dell's Newbery Award winning novel Island of the Blue Dolphins introduces young people to the Channel Islands. O'Dell's tale of the young girl Karana was inspired by the true story of the Lone Woman of San Nicolas who was left on the Island in 1835 when a boat took the remaining Nicoleño people to the mainland. She lived alone on the island until George Nidever, a fisherman and sea otter hunter, discovered her in 1853 and brought her to the Santa Barbara Mission.
Although San Nicolas Island is not one of the park islands, the story of the Lone Woman gives interesting insight to the lifeways of the native inhabitants of the Channel Islands at the time Europeans had established a sizeable population in what is now California.
San Nicolas Island is owned by the US Navy and closed to the public. But you can experience island isolation and the natural resources described in the book on the park's five islands.
In addition to the new website listed above, here are links to information of interest:
Visit our keyboard shortcuts docs for details
Duration:

44 minutes, 2 seconds
Learn about the Island of the Blue Dolphins novel and the story that inspired it from Steve Schwartz, a former archaeologist with the U.S. Navy on San Nicolas Island, and Sara Schwebel, an Associate Professor of English Language and Literature at the University of South Carolina.
Last updated: October 27, 2022