Research Permits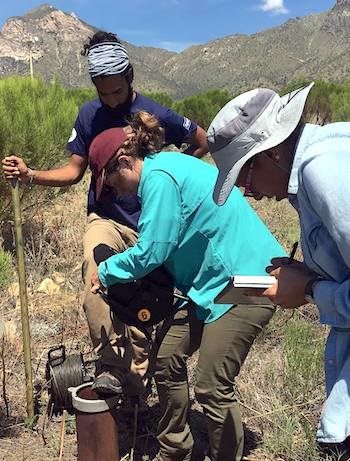 The Southeast Arizona Group of National Park Sites (Chiricahua National Monument, Coronado National Memorial, and Fort Bowie National Historic Site) strongly encourages and welcomes the participation of academic and independent scientists in the park science program.
Research Application Process
Persons can apply for a Research Permit through the
NPS Research Permit and Reporting System website
. This is done by selecting "Submit applications for research permits" and following the instructions on the screen. The application form can be filled out and submitted electronically from the website. Applicants are strongly encouraged to read the instruction set and general guidelines posted on the website prior to completing the Application Form (see "Application FAQs" and "Permit FAQs").
We suggest that you contact us prior to submitting your application. The best way to do so is by email.
We will help you with the process and send you a packet of information and paperwork to include with your application.
Proposals for research are reviewed by our Integrated Science and Resource Management Team. We will consider all proposals, with special consideration to those topics that are in alignment with
park goals and research
.
Persons wishing to familiarize themselves with recent research and resources management projects in the park are encouraged to visit the
NPS Research Permit and Reporting System website
and examine the archive of Investigator's Annual Reports.
We look forward to working with you.
Southeast Arizona Group of NPS Sites
General and Special Research Topics:

Geologic/Hydrologic Dynamics
landscape erosion/failure
vulnerability of geologic/paleontological resources
geomorphological studies
soil chemistry and character
hydrology/watersheds
spring assessment and rejuvenation
cave/abandoned mines management and wildlife habitat study
Ecosystems/Habitat Management
vegetation change (forest, agave, grasslands, etc.)
habitat study and resiliency (tree/beetle kill studies, T&E species habitat, exotic plant study and mitigation, etc.)
fire effects
pollinator studies (wildlife and insects)
soundscape
viewshed
wilderness character
phenology studies
Nonrenewable Resources
human behavioral ecology (settlement and subsistence patterns)
ethnographic/oral histories (Chiricahua Apache, historic uses, etc.)
historic fabric and character studies and restoration
paleontological resources inventory and assessments
data recovery/excavation of vulnerable archaeological sites
early agricultural practices
Climate Change Research/Atmospheric Monitoring
air quality
cave microclimate monitoring
paleoclimate and paleoecological proxy studies
T&E and other Sensitive species vulnerability studies (habitat/climate dynamics)
Human Use Impacts
trails/cave use
road/border fence related impacts
Last updated: May 3, 2017