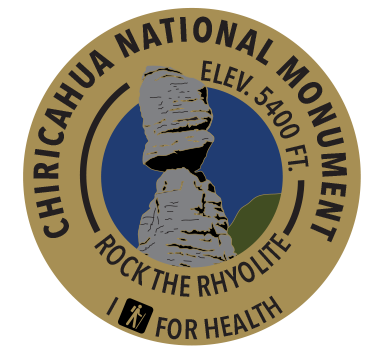 ROCK THE RHYOLITE:
Earn an award by hiking at Chiricahua National Monument!
Hiking is a great way to exercise while exploring the wonderland of rocks, and the history of the American West at Chiricahua National Monument. The I Hike for Health program is a hiking challenge you can attempt on your own or with your friends and family. Stop into the visitor center to learn about the challenge and to earn your award - a Chiricahua National Monument pin - while hiking some of the most beautiful trails in southeast Arizona.
In order to qualify for the award, first pick up a hiking log from visitor center staff.

Each hiker must hike a minimum of 5 miles / 8 kilometers in the park.

Each individual seeking the reward must have a photo or selfie of themselves on each trail hiked and present the pictures to park staff at the visitor center.

Record your hikes using the hiking log.

Please, only one pin per person.