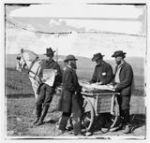 Chickamauga and Chattanooga National Military Park provides up-to-date information concerning the park via press releases and other media outlets. For additional information on special park news and events, please click the News Releases
link or
click here
for the park's schedule of events. The park also has a newsletter that informs the public about upcoming events and includes various articles about happenings in the park. To reach the newsletter, please click the Park Newsletter link above.
---
The National Park Service makes every effort to keep the public informed about news events, accomplishments, employee recognitions, special and re-occurring events which occur within and around the units of the Park Service.
Chickamauga and Chattanooga National Military Park provides press releases to local and regional newspapers, the park also posts current news releases and past news releases on its web site.